Has your small business expanded to several or more employees? Nowadays, it is easier than ever to not only do your accounting online but also process payroll. QuickBooks Payroll Service might be just the right solution for your small or medium business and you might be able to save some money along the way. There is also a software for the desktop version of QuickBooks. If we had to describe this service in one word, it would be easy and its features.
What is Intuit Payroll?
Intuit has over one million customers, who use its accounting and other products. According to users, it is truly intuitive and very, very simple to use. In addition to accounting solutions, Intuit offers several payroll management products among which the most popular are base salary, overtime salary, full salary, QuickBooks Online integration and Desktop software, as well as software for QuickBooks Accountant.
Customers can choose between three different packages. If you opt for a Full-Service package, the service will do your payroll processes for you. Calculations are also guaranteed to be accurate, no matter which QuickBooks software package you select.
The experts can set up your system for you or check if everything is done correctly. After you pass the online sign-in page, you will have access to all Intuit products online. It will automatically calculate the salaries and wages and send you reminders to ensure that you do everything on time. A mobile app allows to access online accounts and do payroll anywhere and at any time without much effort, which makes tracking and managing everything more efficient.
Payroll expenses will also be automatically updated in QuickBooks accounting solution because customers can integrate this solution with QuickBooks Online accounts. This dramatically simplifies the whole accounting process if you use QuickBooks Online for other accounting records. With this online service, you can be sure that your people get paid on time, and business payroll tax payments will also be easier to take care of. Additionally, you will be able to better budget your money thanks to insightful reports. The program also makes tracking your team's hours much easier, and the Elite plan even allows time tracking on the go.
Overview of Features Offered by Intuit
Intuit offers the following features to QuickBooks Self-Employed that make it surprisingly easy to do payroll-related tasks:
Availability on iPad, iPhone, and Android
Free 30-day trial
Integration with QuickBooks Desktop, Online, and Harmony
Payroll taxes setup and filing
Time tracking
Free paycheck calculator, tax glossary and map
Same day direct deposit
Error Detection Technology with instant alerts
Free year-end W-2s and new hire reporting for W-2 employees
E-file 1099s
Automatic labor law posters option
Support from experts
Intuit Payroll Benefits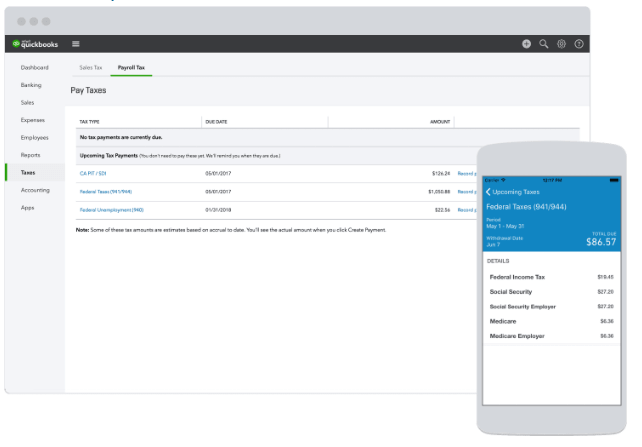 Customers can chat online with the support and have an answer right away. Intuit phone numbers and email addresses are also included on every single tab in the top right-hand corner if you prefer to call or send an email.
You can use direct deposit to pay your staff and contractors on the same or next day with just a couple of clicks. If they do not have a direct deposit set up, you can easily print them a check. The time tracking on the go feature makes it easier to record the hours worked.
The solution is straightforward to use. In less than five minutes (depending on the number of paychecks), you can see total hours and total payments based on the regular, vacation, and sick time you enter into the system. Users also appreciate reminders and mobile app that allows doing any tasks on the go. For example, you can approve and sign the payments right from your mobile device.
Intuit online payroll easily integrates with QuickBooks. You will get very seamless, with a click of a button, addition to your QuickBooks. All the data will be imported where it needs to go so that you can check the actual profit and loss. The data is imported into your business QuickBooks accounts automatically to save you time.
Being able to check the accounts anywhere at any time is very convenient, and you can get back to running and growing your small business in no time. You can access most features of QuickBooks products from any mobile device: iPad, iPhone, or Android. To access your account, all you will need is sign in.
QuickBooks will calculate payroll tax payments for you. Its customers also can file the federal taxes from the enhanced plan in just a few clicks. They also guarantee that they will cover penalty fees and interest if the last are incurred due to their fault, given you purchase the Elite plan.
Intuit Data Privacy and Security
When a business looks for a company it can entrust not only its own accounting and financial information and money, but also personal data of its workers, then the privacy, security and other terms are of utmost importance. The good news for every small business that wants to use their online products is that Intuit takes privacy and security very seriously because they value every client.
According to its Privacy Statement published online on its website, this company follows the US Safe Harbor Privacy Principles, so you should not worry that parties not permitted to do so will have free access to your personal, business, and financial information. At the same time, you would still have to share personal information, such as name, email, and credit card number when you register accounts, make online payments and require support for any of the products.
To protect your personal and business financial and other information, it uses industry-recognized online security safeguards along with security procedures and practices that were thoughtfully developed in line with all the laws and standards. Additionally, when you pay online or share other sensitive data online, the company uses data encryption algorithms. You or your accounting team can contact the QuickBooks ProAdvisor or check the official website for more detailed information on your data protection as well as Terms of Use.
User Reviews
This review would be incomplete without tracking down some real user reviews.
"What I like best about Intuit Payroll is the efficiency of paying our employees. It was simple to figure out initially. We once needed assistance with learning how to add in garnishments and the Intuit support was very helpful in answering our questions. Since then we have had no issues in completing this task when needed. Use Intuit for your company's payroll needs! Ease of use, efficiency, and support team are phenomenal. No complaints about this company."
Jessica N., Small Business
"An inexperienced user could easily navigate this software. Intuit Payroll is straightforward and quick to use. This product is efficient to use in a small, medium or large business. Additionally, I love that the product has a check printing feature. In addition, it is very affordable. No hidden costs or fees. Moreover, I can create payroll on my computer or my phone using their app. The software has many options that allow a small business to pay taxes, print history, among a host of others."
Kimberly C. from LTI Transport
"No mistakes in paychecks and payroll taxes is what Intuit Full Service guarantees. I had very little problems with error on returns and what I find very useful is the tax payment process and e- filling. The awesome thing about it is that it holds on with the majority of business finances and everything is kept in one area. It is available on other platforms too, which is easy to navigate between the tabs with its integration with quick books pro."
Winifred, Higher Education
The Bottom Line
What can be better than have your personal and small business accounting and payroll all in one place online, instead of having multiple accounts with different terms of use? This not only makes tracking all your business financial information more efficient and simple, but will also save you money and time. Also, QuickBooks Online offers an ability to try it for free for a whole month and save 50% on three months of service, which will further save money for your business.
As you can see, the list of features it proposes for business includes everything you might need plus there are free tools, although it does vary depending on the plan you sign up for. One of the valuable features for start-ups, small and medium businesses is that QuickBooks will automatically calculate your tax payments and Elite plan users also have tax penalty protection, which business owners really appreciate. Your personal and accounting information is also well protected.