A QuickBooks ProAdvisor is somebody informed with the QuickBooks products, which has joined the QuickBooks ProAdvisor program and completed a confirmation test. This individual can provide better business consulting along with financial consulting. Getting certified with QuickBooks ProAdvisor will make you more efficient and successful in your practice. There are many more benefits that we will talk about later.
Getting started with the certification is very easy because you have access to free training resources, such as self-guided modules, webinars, and even live course options. You do not also need to be a bookkeeper or an accountant or have any specific education certificates or degrees. Considering that you invest one to two hours every day, you can get ProAdvisor certified in just two weeks, and be QuickBooks Self-Employed.
Individuals can choose to get certifications in different spheres. These include QuickBooks Desktop (Advanced Certification discontinued in 2018), QuickBooks Online (Basic and Advanced), QuickBooks Point of Sale, QuickBooks Enterprise Solutions. Note that none of these certifications will mean that the individual is a certified bookkeeper or accountant.
If you want to go a step further in mastering QuickBooks, you can look into advanced certification. There are advanced training options led by QuickBooks Accountant experts. After passing an additional exam, you will get an advanced certification badge that will significantly raise your credibility. The best part is that you will learn valuable information along the way. You will be able to use this knowledge to improve your clients' experience and grow your practice.
Step 1: Sign Up for QuickBooks Online Accountant
Your first step is to create a QuickBooks Online accountant profile to become a QuickBooks Online Pro-Advisor. Users do not have to pay to sign up with QuickBooks ProAdvisor. To create an account, you will need very basic information about intuit QuickBooks:
Go to QuickBooks.Intuit.com/accountants
Click on ProAdvisor Program at the top
Sign-up for free by filling out the information asked
This process will take only several minutes of your time, and you will be able to proceed to the actual training and exam.
Get Free Review Of Your Books
Step 2: Prepare for the QuickBooks ProAdvisor Certification Exam
Once you signed up, you can access the training section and the exam portal to take your exams. To start practicing, go to ProAdvisor found on a menu on the left and click on the training tab. This allows us to study for the exams, the basic one being the QuickBooks Online ProAdvisor.
The QuickBooks Online certification has seven learning sections, while the Advanced Certification has ten modules. The first one should take you approximately six and a half hours, and the advanced will take eight hours. You do not have to do the training in one sitting. The system will save where you last stopped, and you can resume the learning later on.
While preparing for the certification exam, you can also earn CPE credits, which is a great plus. As of 2020, the basic certification gives you 8 CPE credits and the advanced – 13 CPE hours. After the training, you will not only be ready to pass the exam but will also feel that you are a professional in QuickBooks and can answer any of your clients' questions with confidence.
Step 3: Take the QuickBooks Certification
The exam has eight sections with a total of 75 questions that will test your knowledge about the QuickBooks functionality and features. You need to get 80% or more questions right in each section to pass the examination.
A basic understanding of general accounting principles will also be necessary to pass the exam successfully, but that is why you go through training first. The training part, though, is not mandatory, and users can simply take the assessment to get the certification. You can also access QuickBooks and reference your notes as you take the exam.
The test will take only a couple of hours, and the best part is that it is free. During the exam, you will be able to review your answers for a particular section before confirming the submission. However, the exam has to be completed in one sitting. If you do not pass the certification exam the first time, you have a chance to retake the exam several times. You will be answering questions only in sections you have failed, which is great.
QuickBooks Certification Exam Breakdown
Although the number of sections, questions in them, and their content change from time. They will also vary based on which certification you are getting. Nonetheless, here is a list of topics that you are likely to be tested on:
QuickBooks Solutions for Clients
Client Onboarding
Special Client Onboarding Tasks
Managing your Clients and Work
Supporting your Small Business Clients
Reporting
Banking and Tools
Preparing Clients' Books
Some study tips we can give you to ease your stress and help you to pass the testing successfully. One of the obvious tips is to study all the resources provided, watch the webinars, and take notes. Also, download and print handouts and the PDF files (test questions) that come with the webinars because they will be very helpful as you go through each webinar and take the exam later on. Keep in mind that it is best to focus on the topic on the hand.
Your ProAdvisor Profile
After you pass the exam and certify as QuickBooks ProAdvisor, you can list your practice on the Find-a-ProAdvisor platform. This allows you to connect with potential clients, build your client list, and earn their trust. About a thousand bookkeepers and accounts connect with business every day through this platform.
This is not surprising because this is the largest platform in the world that connects businesses with accounting professionals. Adding client reviews, your photo, industry expertise specification, and updating your profile will increase the chances of being matched with the right businesses.
The picture you build on this platform will represent your professionalism to the businesses who are searching for QuickBooks consultants. This is the first impression that they will get, and having that certification as well as additional information along with reviews will allow you to earn their trust right away. So, do not be afraid to give your clients a link to your profile and ask them to leave a review.
Having a ProAdvisor Profile allows you to have your profile ranking go higher and higher as you earn more points, which is powerful. You will be able to grow your business and take advantage of more features of this program, discounts, QuickBooks Payroll Service, product support, and training opportunities. There are three rankings: Silver, Gold, Platinum, and Elite.
Frequently Asked Questions
How many times can I take the exam?
Each user is given three tries to pass the exam. If the user is unable to get a high enough score on the exam, they will be given 60 days to study more before they can retake the certification exam. When retaking the exam, the user will need to answer all the questions in the failed sections all over again.
Is QuickBooks training required?
Users who feel that they possess enough knowledge and expertise in QuickBooks Online can skip the training and take the exam without completing the training session.
Do I have to finish the exam in one sitting?
Yes, users are expected to complete the exam in one sitting. There is no option to pause and resume the exam, so take the necessary steps to be ready to complete the whole exam without interruptions.
Will I need to retake the exam after some time?
Yes, as new features and functions come out, we require ProAdvisor members to recertify. However, you will be tested only on the new topics, so it will take you only about an hour to finish the exam. If you want to be listed at the top of the QuickBooks list of ProAdvisors, then you need to have a certification in the latest. Most certifications require you to renew certification every year, except QuickBooks Point of Sale and QuickBooks Enterprise Solutions.
Am I obligated to maintain my ProAdvisor membership?
ProAdvisor membership does not entail any contracts. Members are free to resign their membership whenever they deem appropriate.
How do I get CPE credits?
During the training, the user can complete a CPE assessment after each module is done. The user will then receive CPE credits that can be accepted by the state. Note that some states will not accept these credits, so check beforehand to be sure.
Do I have to pay to get certified?
It will not cost you anything to sign-up, prepare, and take the exam. However, you need to maintain an active QuickBooks subscription to be a member of the program.
You have many advantages to being a part of this program. You will validate your skills, and your clients will feel comfortable working with you. You and your clients will also receive special program benefits such as expert support, discounts, and much more.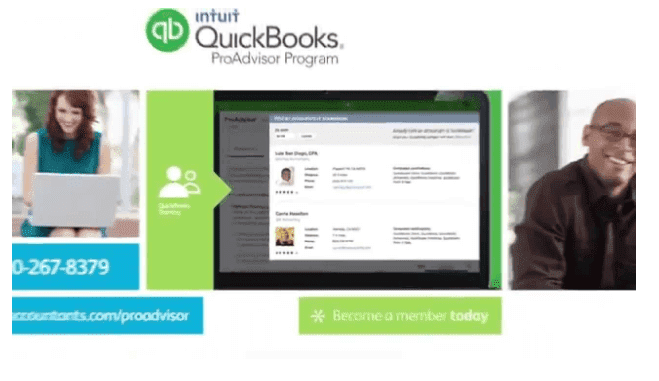 The Bottom Line
If you have been considering this certification, but weren't sure if it is worth it or haven't found the time, take into account that the little time you put into knowledge and certification that will tremendously pay you back. Being QuickBooks ProAdvisor gives an individual the following benefits:
Get a certification badge for your website and emails;
Boost your credibility and have your profile ranking go up;
Sets you apart from other individuals knowledgeable in this software and set yourself as a true expert;
Gives space to promote yourself and a place where clients can find you;
Access to unlimited US-based phone support by QuickBooks Accountant experts;
Get free and discounted products and supplies;
It allows helping clients no matter where they are, increasing their trust.
If these benefits do not convince you, just register with the QuickBooks, remember, it is free just like all the training and the QuickBooks course. Use it as a knowledge resource, and maybe one day, you will feel that all you need to do is take the certification exam to show the world your expertise in QuickBooks.
If you would like to get information about this program or have any questions, please visit the official QuickBooks website or contact its support team, which is available 24/7.

Try One Month Risk Free