Every business and even freelancers need to keep track of their financial data, such as sales, purchases, and taxes. Of course, they can choose to do it the old-fashioned way. However, if they have accounting software, it is much easier and faster to organize financial transactions and see how the business is performing at any time.
What is Zoho Books?
Zoho Books is online accounting software. You can access Zoho Books from any device, anywhere, and at any time. It has everything a business would need to manage its business accounting. With Zoho Books, businesses can take care of invoices, collect payments, manage expenses and inventory, as well as benefit from banking reconciliation and insightful reports.
Overview of Zoho Books Features
iOS and Android applications
Create beautiful invoices in seconds
Manage business contacts
Create and manage estimates, sales orders and credit notes, expenses, bills, vendor credits and much more
Keep track of your sales tax liability
Connect your bank account and reconcile transactions
Pay directly to your vendors
Over 50 detailed reports that can be customized and exported
Client portal for your customers
Backup your entire data in one click
Over 40 integrations, such as Zoho Books Payroll, Inventory, CRM and Projects
Zoho Books Benefits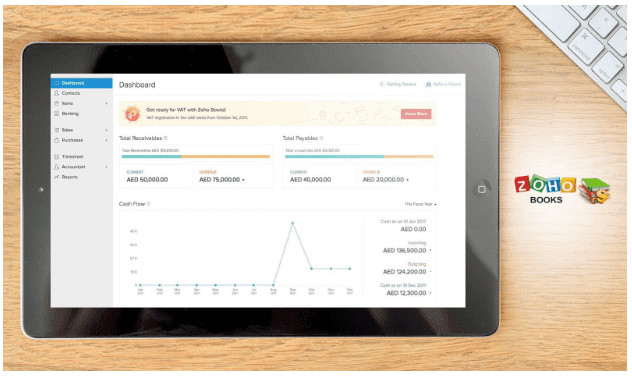 In this Zoho Books Review, we also want to point out the benefits this software:
If you are starting a new business, you might want to go with Zoho Books because you can expand your business with it and add more applications.
In Zoho, accounting is closely integrated with CRM, email, HRM, spreadsheets, which is very convenient for accountants and other employees related to finance.
Zoho Project Management System can do everything that a project management system can do. It can also log time and produce timesheets, which can be used to produce invoices in Zoho Books. Users can add tasks, log hours, upload documents, and communicate with the clients. Adding clients to the project is free and allows users to provide project transparency.
What Problems Can Zoho Books Solve?
This is a great solution for freelancers who are overwhelmed with all the accounting tasks. Zoho Books can help them take care of invoices, accounts receivables, taxes, time tracking, and so much more. This software will help freelancers to automate as much as possible and keep everything organized and under control.
Starting to use Zoho Books is very simple, whether you do it from scratch or transferring data from another software because it has a very helpful and thorough Zoho Book User Guide that can be found on its help page. It includes videos for everything there is to know about Zoho Books, and is it very easy to navigate. If users have a problem with Zoho Books sign in or other issues, they can also call or email the support team.
Keeping a hand on the pulse becomes harder if you do not always have access to the financial information. Using the accounting software Zoho allows the company to track the balance sheet and a full report on cash flow at any given time with just a Zoho Books login info and a device with internet access.
Zoho Books Pricing Overview
Zoho Books is the first Zoho product in which there is no free version, only a 30-day Zoho Books free trial. This is not surprising since, in most cases, in small companies, there is usually only one accountant, and making a free single-user version would mean working at a loss.
The Zoho Books pricing plans:
Basic (€9 monthly or €90 yearly)—includes up to 50 contacts and two users. The features include invoices, estimates, time and expense tracking, client portal, credit notes, sales approval, multi-currency and multi-lingual, financial reports, accountant, and banking. You can automate recurring invoices and expenses and payment reminders. All the main integrations, except one, are also included.
Standard (€19 monthly or €190 yearly)—users can now have up to 500 contacts and three users. Additional features include bills, budgeting, vendor credits, purchase approval, as well as reporting tags.
Professional (€29 monthly or €290 yearly)- includes up to 500 contacts and ten users. Clients also get a custom domain and several features in addition to the ones included in other plans.
User reviews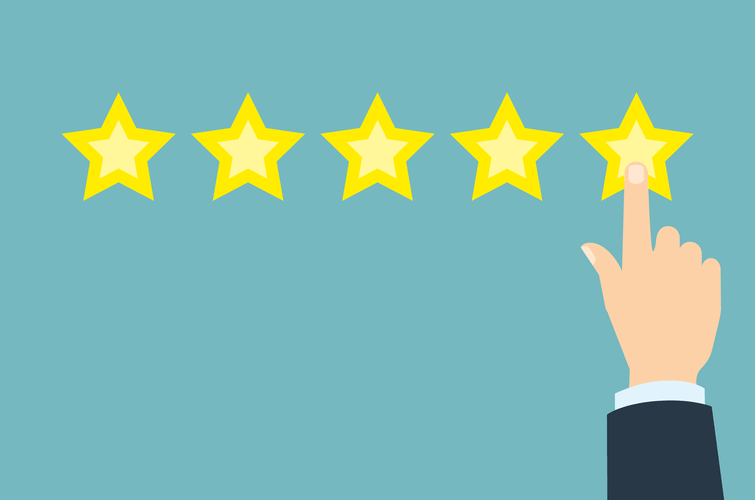 "I like that Zoho Books integrates easily with the Zoho suite of applications, which means I don't need to re-key contact info. I can send invoices to clients with an embedded payment link, and when they pay, I get a notification and the receivables is updated. Zoho Books is easy to use if you know accounting basics. I can easily run reports and schedule them for automatic generation. Plus, the system automatically sends out reminder emails for past due receivables. In short, Zoho Books is easy to use, affordable, and fits my requirements."
Amber
"What you really enjoy when using Zoho Books is how easy and simple it is to work while helping you make the right decisions depending on the information received from the software. It has a huge amount of options to customize customer reports, sales teams that allow you to visualize the whole process in detail and allow the integration of other applications between its functionalities. Zoho Books support via email is very responsive and they usually solve your problems quickly."
Marie M.
"I like Zoho Books so much that it allows me to manage multiple timesheets of different projects and track the reimbursable expenses. It also lets me connect bank and credit card accounts and match automatic sources with transactions. The best thing is that my company can automate recurring activities. Zoho Books updates the quantity and value of items sold and purchased and sends a notification when stock levels fall below a defined value. The solution has the analytical capabilities to provide reports of accounts receivable, accounts payable, cash flow, income and expenses through its control panel. Support is provided through the knowledge base and the telephone."
Melanie P.