Here you are running your business, hiring employees, and marketing your business, but if you are like most small business owners, you don't have any more time or desire to learn to account. We don't blame you at all. Luckily for you, in this Kashoo review, we are going to introduce you to a tool that is going to do all the heavy accounting lifting for you, so that you can focus on your business instead of the numbers.
What is Kashoo?
Without an accounting software like Kashoo, accounting is very time-consuming. Kashoo Cloud accounting simplifies the process, even if you are constantly on the go. With a mobile solution, users can enter data wherever they are. It is a perfect choice for service-based, small businesses, CPAs, and their clients.
As with any good cloud accounting app, users can import their bank feeds and then add in and match up to their transactions. Users can get an at-a-glance view of their cash flow, enter income, enter and track expenses, create and send invoices, do end-of-the-year accounting and be able to add details, which many values very much.
With Kashoo, the little things are easy, and the picture is just a click away. To get started with Kashoo, you'll want to create your Kashoo accountant login and connect your business accounts. All your income and expenses will be reflected in your account. Users will be able to have a real-time view of their finances.
Overview of Kashoo Benefits
Kashoo's bookkeeping service was specifically developed to make accounting for small business owners simpler. They can use the web or mobile app. It is very easy to set up their bookkeeping and have the accountants collaborate with the owners on anything accounting related. CPAs on the support team make the experience even better.
Convenient and quick navigation
Kashoo accounting dashboard gives a clear picture of the company's finances and helps to increase profits. Everything one would need to do; all the navigation needed to complete part of the accounting process is available right from the menu on the left. One can quickly navigate to posting transactions, running reports, all the setup, and more.
A simple way to add income and expenses
You can hook up all of your business banking and credit accounts to your Kashoo account. This will help Kashoo automatically input any credits or debits to those accounts and deliver a full bank reconciliation. Users can also add expenses and income manually through the forms in the Kashoo dashboard. It takes less than a minute to add a check payment or an expense manually. It will be immediately registered in Kashoo and reflected in the mini-report on the right-hand side.
Kashoo users also have the ability to send invoices to their clients. You can fill out the invoices information with the products and services sold from the invoices tab and download it as a PDF to email it over to your clients. The invoices can have your branding and logo for a more professional look, and users can set up recurring invoices. When your clients receive the invoice, they have the ability to pay the invoice with a credit card through Kashoo.
Create and print paper checks
This is a feature that not much similar software has. Kashoo also gives users an ability to create and print paper checks to pay vendors as well as enter transfers made between your banking accounts.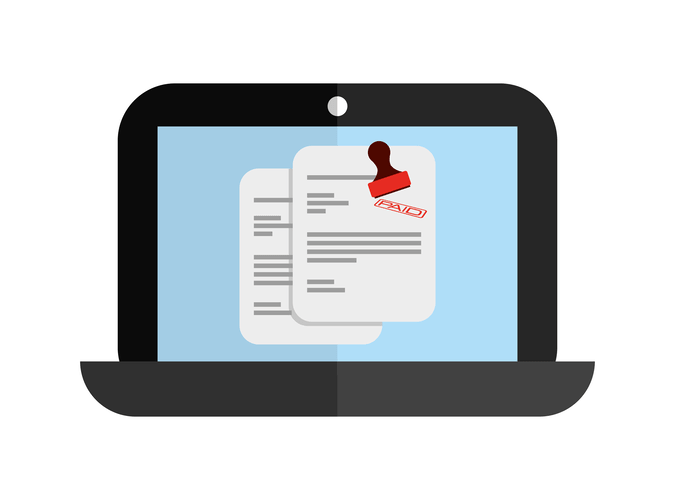 Overview of Kashoo Features
Cloud-based solution
Exceptional mobile app
Free 14-day trial
Multiple currencies
Integrates with Payroll, Square, FreshBooks
Multiple users and unlimited projects
Take pictures of receipts
Full bank reconciliation
View cash flow
Create and send invoices and accept payments
Create and print paper checks
Track expenses and income
Do end-of-year accounting
Real-time view of finances
Accountant access
How Much Does Kashoo Cost?
Given all the great features and benefits of using the Kashoo cloud accounting, one will also want to know the Kashoo price. Here are three options you have:
A free 14-day trial that includes all the features;
Monthly payment of $19.95 for a plan that includes all the features;
An annual price of $199 with monthly payments of $16.65 for an all-inclusive plan.
As you can see, Kashoo does not charge for all the premium features and has just one price for everything it has to offer. At the same time, the Kashoo price is much lower than that of its competitors.
Users should note that if they want to track multiple companies, they will have to purchase a separate subscription. Fortunately, Kashoo has a discounted rate for multiple subscriptions. Kashoo also partners with SurePayroll, so users can choose to add payroll service to their Kashoo account for an additional cost.
Kashoo User Reviews
Kashoo delivers great accounting software with premium features for an affordable price. It also has excellent customer service. User reviews, such as the ones below, reflect their satisfaction with Kashoo.
"Kashoo is helping us keep all our finances straight. We run all our accounts receivable and accounts payable through Kashoo to keep up with our bottom line. I like their online tutorials. I have zero accounting experience, but Kashoo's tutorials have helped us to understand what and how we need to track our business finances. I also really like how detailed it is. I can see at a glance how we are doing financially."
-Esther G, Business Owner
"Kashoo is clearly more affordable software than any others that offered all the particular requirements I needed. Even though I am a small business owner, I need to handle a range of international currencies and apply the correct sales tax for the country I am operating from. I am also not an accountant, so needed a program that was highly intuitive. A massive bonus was that I also found really useful and responsive service. Always prompt responses to my queries."
-Garth N, Director