Learn How Bookstime Is Different
GoDaddy Bookkeeping will make your life as a business owner a lot easier. You will not have to stress about accounting because everything will be organized in one place and perfectly kept track of without hours of data entry and tracking down receipts. Navigation is fairly simple, with the main menu items laid out across the top. GoDaddy will track your income and expenses, such as advertising, insurance, and mileage, and connect a bank account, credit card, and PayPal accounts associated with your business. Users can also track their supplies and the cost of goods sold, which are important indicators for business owners. The invoices are fairly built out, have a modern design, and give you the ability to create estimates, make them reoccur, collect online payments, and bill for time and expenses. Customers can pay invoices online and also accept quotes online. This means that you will get paid faster and will know when you are getting paid and when invoices are not paid on time. Users can add attachments and use various templates. Although GoDaddy tries to categorize all transactions automatically, you can easily categorize your expenses and income to ensure that all the transaction numbers go to the right place because automation won't always be correct. GoDaddy will apply your changes to similar transactions both in the future and in the past. Many also appreciate easy access to their liabilities and the ability to view a chart or table representing a profit-and-loss report for a period. Another advantage of GoDaddy Bookkeeping software is that it automatically creates and keeps up-to-date your Schedule C worksheet, so filing your annual taxes is just a snap.
Accounting Features
Cloud-based (no need to download or install software)
Cash basis income and expense accounting
Amazon, eBay, Etsy, and PayPal direct integration
Tracks repeat customers
Mileage tracking
Estimates taxes owed
Automatic Schedule C worksheet
Connect business accounts
Mobile apps
Categorization changes applied to similar transactions
Good invoice and estimates functionality
Limited customer contact information management
Affordable price
Get paid faster (check or online via credit card or PayPal)
GoDaddy Bookkeeping — Integration & Extra Services
GoDaddy Bookkeeping has several integrations, including good integrations with e-commerce sites like eBay, Amazon, and Etsy. This software also integrates with PayPal account, which makes it ideal for businesses who use this payment method. So, if your business is focused on selling on those sites, GoDaddy online bookkeeping may be a good fit for you. An ability to track repeat customers is of great advantage to the e-commerce store owners. Other services offered by GoDaddy include the following:
Professional email – personalized, domain-based email for your business
Website builder – click-and-drag, easy website builder
Web hosting – hosting and storage for personal and business websites, dedicated IP address for each account
Domain names – domain registration, including bulk domain registrations for convenience and visitor's trust
Security – SSL certificate for your website, data and transactions protection
Affiliate programs – make money by referring other people
GoDaddy Bookkeeping Pricing Overview
GoDaddy Bookkeeping is a user-friendly software at an affordable price. GoDaddy online bookkeeping free apps can be easily downloaded to iOS and Android devices. There is no free trial as per website information. GoDaddy's bookkeeping price for software varies from $5 to $15 per month. The monthly plans are:
Get Paid ($5) – simple plan with minimal features;
Essentials ($10) – more features, such as a bank and credit card connection, data integration, unlimited reports, and taxes;
Premium ($15) – all features available, including recurring invoices.
Customer Service of GoDaddy Bookkeeping
If users are looking for help, they can always check the Help page. The support articles often have enough information to answer the frequently asked questions. A search function makes it easier to find information that also includes community results. There are also resources such as newsroom, blog, and social media. GoDaddy customer support is available for free. There is a ticketing system that can be used for support, and users usually get answers quickly. Although there are phone contact numbers available for many countries and the support is offered 24/7, the support language is mainly English. The wait times for phone calls are relatively short.
Bottom Line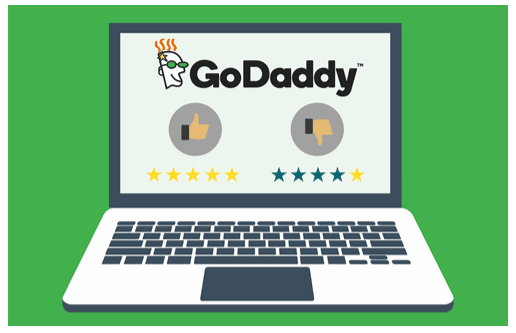 A conclusion we would like to make in our GoDaddy Bookkeeping Review is that GoDaddy makes managing your business finances simple. It makes sense to use this software if you are a freelancer who does not need advanced features or own an eBay, Amazon, or Etsy store and want easy integration and streamlined bookkeeping. It is a good choice for service-oriented businesses. GoDaddy synchs everything together and puts it in one centralized location. All the information for your taxes is there and nicely organized. GoDaddy bookkeeping app (for Android and iOS) has similar functionality to the web app, so it is convenient to use the software on the go. So, if you are a business that needs a simple way to track your business income and expenses on a cash basis, GoDaddy can offer you just enough functionality to achieve that. However, keep in mind that this software has shortcomings such as a single user GoDaddy bookkeeping login, no third-party app support, no payroll featureб and cash-basis accounting only. There are minimal updatesб and the service is unlikely to expand the list of the features available in the near future.