You've probably heard about cloud ERP software. You may have come across NetSuite, the #1 cloud ERP software suite. Yet, why consider NetSuite as your business management software? In this article, we will try to help you make the right ERP choice.
What is NetSuite ERP?
NetSuite is a global ERP system, first established in 1998. NetSuite is a single business system in the cloud that allows organizations to run their business right from their accounting procurement or their back-office systems. As many NetSuite ERP reviews claim, it's the world's largest cloud ERP vendor, with over 40,000 organizations worldwide using NetSuite. NetSuite ERP gives you real-time data on a desktop, laptop, or mobile device, so you can make agile business decisions the moment you need to.
NetSuite was designed to manage all core business functions and brings everything together. It has accounting and financials with multi-currency support. NetSuite ERP solutions include customer relationship management (CRM) to enhance the customer experience, sales and marketing management, trends, and insights. There is real-time reporting, business intelligence, and so much more.
Businesses of all sizes can use this software for enterprise resource planning (ERP). They can effectively run the whole company from the point when a customer touches the organization through a website, mobile app, a shop, or a call center right through the journey of them ordering the product, managing that product, delivery, invoicing the product and accounting for it. In other words, the whole business process is managed within a single system.
If users need help to get started, they can turn to customer support and also complete NetSuite ERP training. The training is beneficial both for individuals who want to improve their resume and employers who want to ensure that their team is well versed in the software, and the business is getting the most out of it. NetSuite ERP certification will serve as proof of expertise in NetSuite.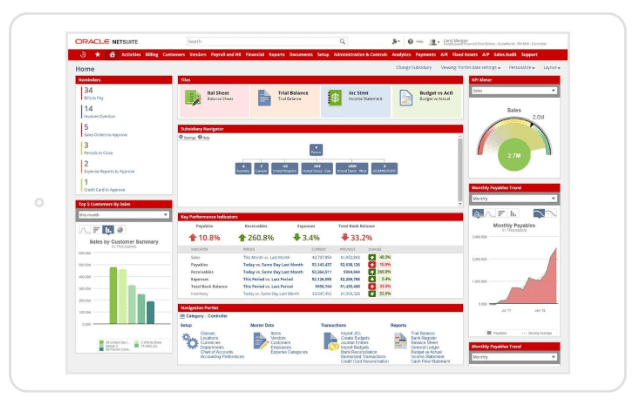 Overview of NetSuite ERP Benefits
The maturity of the product is one of NetSuite's biggest strengths. NetSuite brings its customers a proven and very mature SAS solution. The stability and the length of experience in the ERP cloud market make this software a top choice for many. It started as a SAS and cloud solution way before this became a trend. The functionality, the integration, and the overall seamless nature of this system speak of its maturity.
If you are unsure about used a cloud-based system, consider the fact that NetSuite has a 99.5 up-time guarantee and consistently met 99.98%. It employs enterprise-level security features. Its advanced encryption and security policies keep your data safe. The data centers in several global locations are monitored 24/7 with CCTV and guard patrols. Moreover, all the data is backed up off-site. Only a few businesses can ensure such a level of security for their offices.
NetSuite is engineered to scale with businesses, and one can be confident that their growth will not outpace their system. The flexibility and scalability that a cloud solution has to offer are practically endless. Users can leverage this business management system and add functionality as the business is growing. NetSuite ERP software also has an eCommerce integration, so you never miss a sale. An open API allows expanding integration possibilities. NetSuite supports multiple users.
Built-in business intelligence
Being able to access accurate and real-time data on any part of business finances is crucial even for small businesses. As the business grows, it becomes harder to get real-time reporting and analysis, and managing a business is close to impossible. With NetSuite built-in business intelligence, real-time and accurate reports and analysis of financial data are available in one place that is accessible from anywhere using just the NetSuite ERP login information.
Overview of NetSuite ERP Features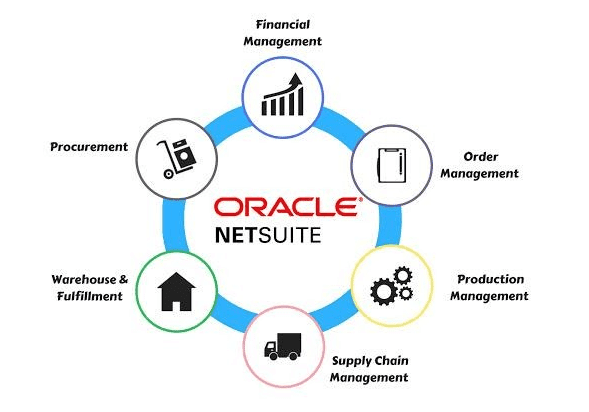 Financial and accounting management and planning
Supply chain and inventory management
Customer relationship management
Sales and marketing management
Planning and budgeting
Business intelligence
Real-time data
Integrations, such as eCommerce
How Much Does NetSuite ERP Cost?
So, what is the NetSuite ERP cost? There is no single NetSuite pricing plan because the combination of software features can vary from business to business and nor does the price. For one cloud solution that covers everything a business might be looking for, NetSuite ERP pricing looks very attractive.
Many companies find NetSuite ERP software to be a viable alternative to Oracle, Microsoft Dynamics, and similar systems at a relatively low-cost entry point for small and mid-size companies with a relatively smaller budget. In the last three to five years, bigger, enterprise-type companies also began to consider this system.
NetSuite ERP User Reviews
"We switched to NetSuite in 2017 and couldn't be happier. The ability to tie POs to SOs and look up all documents is impressive. The custom reports feature is easy to use and manipulate. Every department was able to customize the software to fit their needs. The ability to log in anywhere has made it easy to work from home."
-Mary Soffner, Lean Accountant
"NetSuite has completely transformed the way we do business. It has enabled quick and easy business information access and allowed us to implement an eco-friendly paperless billing system. The increased visibility and efficiency afforded to us will also assist with our franchise business growth."
-Ecocleen Services Ltd.