What is Sage Intacct?
Sage Intacct has been around since 1999 and has built Intacct cloud-based accounting solution from the ground up. It is a perfect choice for CFOs and financial professionals looking for a sophisticated and powerful solution.
Companies of any size, from startups to enterprise organizations, and in any industry will find Sage Intacct a powerful finance and accounting solution that will help to streamline all the accounting processes as well as closing the books efficiently.
It is very intuitive, and users can start working with no bumps in the way. Sage Intacct software is also customizable, so you can adjust it to fit your preferences and business processes. Besides core financials, other modules and features can be added for an additional cost. Moreover, third-party solutions can be added to expand its functionality further and meet your specific needs.

Overview of Sage Intacct Features
Endorsed by the American Institute of CPAs
Easy integration with other solutions
Easy to use and modern user interface
Cloud-based – access anywhere, anytime
Industry-specific solutions
Built-in reporting tools with real-time data
Automation for efficient financial operations
Chart of accounts help to create valuable reports
Real-time financial data
Check transactions from any report
Role settings and permissions
Sage Intacct Benefits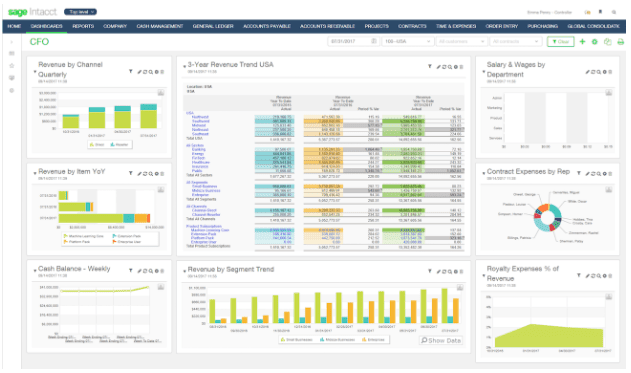 Easy to navigate dashboard
Dashboards do not require IT intervention. It is point-and-click, and adding KPI charts, graphs, and other elements is very simple. A drop-down menu will have all the applications that a particular user has access to (changes depending on work role settings). Users can also create an unlimited number of dashboards. Under each available application, the user will see all the activities that he can perform (given respective permissions).
With Sage Intacct, businesses will get access to all core financials including general ledger, accounts payable and receivable, reports and dashboard, and much more. Custom billing is some of the features that make business owners go for Sage Intacct streamlining revenue recognition and automated.
Intacct is built specifically to be completely cloud-based. Most similar systems are client-server applications, which is costly both from a maintenance standpoint as well as in terms of upgrades.
Intacct has four updates that they release annually, and users can be confident that they do not break any current integrations with third-party applications. Another advantage of cloud-based architecture is the ease of access—a Sage Intacct login and any browser and any other mobile device are all you need.
Chart of accounts and reports
With Intacct, you have a single GL account that is not broken down into segments like in other ERP systems. It has several dimensions that allow tracking items such as projects, vendors, cost centers, and customers. This allows for creating great reports. Reports are also simple to compile because Intacct has a great report writer that is easy to use, very intuitive.

Sage Intacct Pricing Overview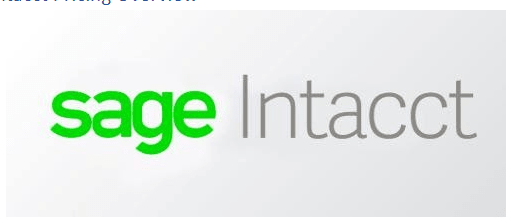 When it comes to Sage Intacct pricing, there is no specific price plan that one can refer to. The price is calculated for each business individually and varies based on the size of your business and the modules you choose to add to your subscription.
Users will initially pay for the implementation, and their annual subscription will be on average between $15,000 to $35,000. This might seem like a too high price, but it is on par with similar products. Here are just some features that users will get:
US-based customer support
15 GB of storage
Core Financials – a base package for every subscriber
Advanced modules and features (Global Consolidations, Revenue and Inventory Management, Salesforce Integration, etc.) at an additional cost
The implementation price will equal to one or one and a half of subscription price. This payment will cover initial Sage Intacct training and courses from Sage Intacct Learning Center, project management, setup and configuration, data upload, testing, and more.

Sage Intacct Users Reviews
Customer satisfaction has high marks, and the following Sage Intacct reviews are a proof of that.
"Sage Intacct has helped us to be able to reconcile our bank accounts, credit cards, and make our reporting so much more streamlined. Reporting information that is easily accessible allows us quick responses to our management and in year-end close with our auditors. Revenue recognition has been so much easier and has cut down on our revenue recognition entries by around 800-1,000 entries per year."
– Shealeen K., Senior Accountant
"What I enjoyed best about Sage Intacct is how intuitive it is. I am able to get users fully trained and using the system quickly no matter how little experience they have with accounting software. I have used many accounting softwares and Sage Intacct is by far the easiest system to use and train on."
-Shelton H, Director of Finance
"In addition to the tremendous value of Sage Intacct's dashboards and dimensions, it's a great advantage to bring statistical information into the system so easily. We monitor daily attendance from our members and the general public, and love that we can now marry the zoo's financial information with these numbers. As a result, we can react quickly versus waiting until month-end to see if attendance makeup, food sales per capita, or other trends are out of their normal range."
– Frank Fieseler, CFO & COO
"The financial suite is well organized and easy to use, adoption by new users has been fast. There are many tools to aid both productivity and the accuracy of information such as bank integration, prepaid amortization schedules as well as setting up recurring or memorized transactions. The implementation went very smoothly."
– Paul I, CFO