Reading Time 5 mins
Even though bookkeeping isn't as popular or fancy as other accounting jobs, it's still essential. Such services are critical for accountants if they want to quickly and easily prepare documents for their clients. Thus, efficient accounting can't occur without bookkeeping. Most CPA firms hire accountants to do the job for their clients. However, they also need to take care of the accountancy part. In this case, they may outsource the task to a bookkeeping firm. Check out our article to learn about CPA bookkeeping services and why CPAs should consider outsourcing certain tasks.
What services do bookkeeping companies provide for CPA firms?
Any competent CPA firm understands that clients want accurate and timely bookkeeping and accounting services. However, one of these services, bookkeeping, is significantly less profitable than the other. Even while clerking is essential to the firm, it will never be the primary source of money. That's why most CPA firms focus on accounting services.
The issue is that clients delegate you managing their books. How to handle clients' books and offer effective financial auditing while you are focusing only on the latter? Outsourcing the bookkeeping process to another company is a great way-out.
Here's what services you can get:
Traditional bookkeeping. Having new clients means setting up and maintaining their ledger, linking accounting software to their bank account to get transaction data, etc. It all takes time, and bookkeepers can do that instead of accountants.
Explaining what documents to keep. Customers want to reduce their tax burdens within their industry, so they need to understand what records and receipts to keep and how to get them.
Monthly reporting. Bookkeepers generate private reports and material necessary for accountants to make financial forecasts and analyze the company's financial health to satisfy clients. Based on this information, a CFO can provide the required analysis.
Managing accounts receivable and payable. Bookkeepers may inform on clients' past-due payments debts.
Keep necessary data for filing taxes. Depending on the type of business, clients must file for taxes every quarter or annually. Proper record keeping helps CPAs with filing taxes correctly and on time.
Taking care of payroll. Bookkeepers maintain employee records, while the CPA takes care of the rest.
These and many other tasks take a lot of time and effort. Even though accountants can complete these duties, it's not profitable. Instead, CPAs prefer delegating the job to another firm. Thus, CPAs can focus on helping more clients and increasing profit.
Benefits of outsourced bookkeeping for CPA firms
If outsourcing bookkeeping suits your clients, it's best to pursue a reliable partner. For instance, BooksTime offers to keep proper records of all your clients while you focus on accounting. Here are some of the benefits of choosing to outsource CPA their bookkeeping services:
Saves time.
Increases profit.
Minimizes losses.
Getting the best services.
Offers growth opportunities.
Now, let us delve into the details of each mentioned advantage.
No More Bookkeeping Stress
Keeping proper financial records is time-intensive and small mistakes can be costly. BooksTime makes sure your numbers are 100% accurate so you can focus on growing your business.
Saves time
While professional accountants can keep their clients' books, it takes time. Instead of records management, CPAs may focus on more challenging and profitable tasks: forecasting, budgeting, and improving financial strategies.
Delegating the task to a professional bookkeeper makes things easier for everyone. The service is paid, but most CPA firms agree that they gain more due to a less overloaded schedule of tedious tasks.
Increases profit
It's logical that since CPAs get more time to dedicate to other tasks, they can do the accounting tasks for more clients. Getting more clients means increasing profit.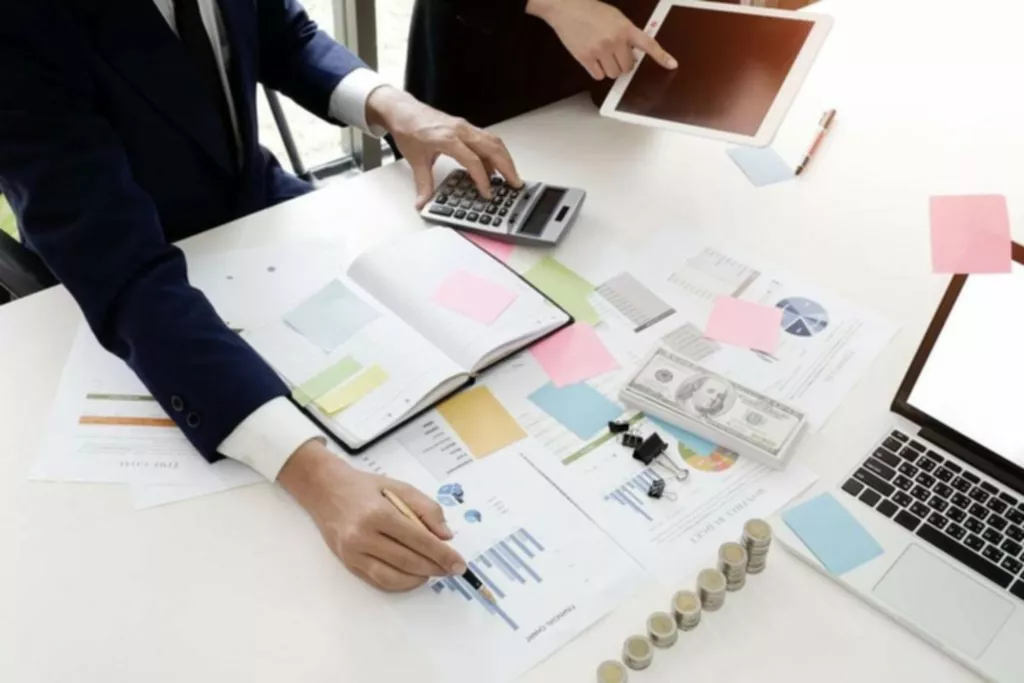 Minimizes losses
Not many people realize that making a mistake in keeping records leads to improper accounting. If your accountants are overloaded with work and must keep clients' books, it could lead to typos and errors. As a result, it could lead to a loss of clients and profit. Outsourcing the record-keeping task minimizes accounting firms' failures.
Getting the best services
Professional bookkeepers have all the necessary tools and software to keep proper records of your clients. While your business focuses on software and technology that help certified public accountants do their jobs better, we provide solutions designed to make bookkeeping easier.
While it's likely that the company works with the same accounting software, they still have better tools to provide high-quality services. Moreover, keeping proper books takes experience, attention to detail, and a sharp eye for typos.
It's wise to take away part of the responsibilities from your accountants, especially if they already have a lot on their plate. That way, you can avoid mistakes in records which could lead to improper accounting. Professional bookkeepers focus on their tasks and provide the best quality financial consulting services.
Offers growth opportunities
Freeing the schedules of your financial specialists means getting more clients: that's clear. However, it also means that you can increase your firm's staff. It's possible to hire more accountants to take care of even more clients' accounting. Thus, you receive a growth opportunity.
When to outsource bookkeeping?
Some CPA firms decide to hire a few bookkeepers to delegate the task. However, it requires following official employment and paying guaranteed benefits, which may not be the best cost-effective option. Some companies decide to delegate the task. So, when is it time to use outsourced bookkeeping?
Answer the following question:
Do accountants have time to deal with record-keeping? If not, then it's best to outsource the job.
Does bookkeeping align with the company's financial goals? It goes at a lower hourly rate, so you may not generate as much profit as planned.
Can the company offer more advanced services when not dealing with bookkeeping? If the answer is yes, it's best to focus on services that generate more profit.
Outsourced bookkeeping enables CPA firms to generate more profit and offer more advanced services. In turn, advanced services improve the reputation of the CPA firm.
Final thoughts
You may choose a reliable bookkeeping company, like BooksTime, to outsource keeping financial records and transactions. We work with different CPA firms and handle their clients' bookkeeping, including invoicing, recording transactions, managing cash flow, payroll services. We guarantee accuracy and meeting all deadlines.
They negotiate the terms to get proper record keeping of their clients. Based on the books, CPAs efficiently do their accounting job. Moreover, businesses are not tied to local solutions. They may select remote services.
Thus, whether your CPA firm`s office is in Philadelphia, LA, or any other state, you can receive professional bookkeeping services for a reasonable price.