The chart of accounts is one of those bookkeeping basics that you should know before you can start learning more advanced material. Without knowing this concept, it will be practically impossible to maintain proper bookkeeping records, especially for a larger company.
Meaning
A chart of accounts is a list of the names of all accounts that a business can allocate financial data to. A simple explanation of this term is that the chart of accounts can be thought of as the accounting version of a book's table of contents, where bookkeeping accounts correspond to book chapters and the financial data in each account corresponds to the text written under each chapter.
You can create an account so you can record information in your general ledger, which can be thought of as the ins and outs of your accounting system. With the help of the chart of accounts, you can see what accounts in your system are available to use. It basically allows bookkeepers to categorize and organize transactions in a meaningful and consistent way.
Examples
Now, let's review some examples of the chart of accounts. If you look at the sample chart of accounts below, you will notice that the accounts are listed in a specific order. First, you see Asset accounts, such as checking account, prepaid expenses, equipment, etc. These are followed by Liability accounts, which can include accounts payable, payroll, loans, and so on. In other words, the Balance sheet accounts are normally listed first and they are listed in the order in which they appear on this financial report.
Although not seen in this example chart of accounts, after the Owner's equity accounts, you will see a list of the Income Statement accounts. The revenue sources will be listed first followed by different expenses a particular business might have. Thus, you will have five account sections in your chart of accounts and you can add new accounts to each section as needed. All the accounts are numbered in the order they appear in the list, with each section starting with a specific number for easier navigation.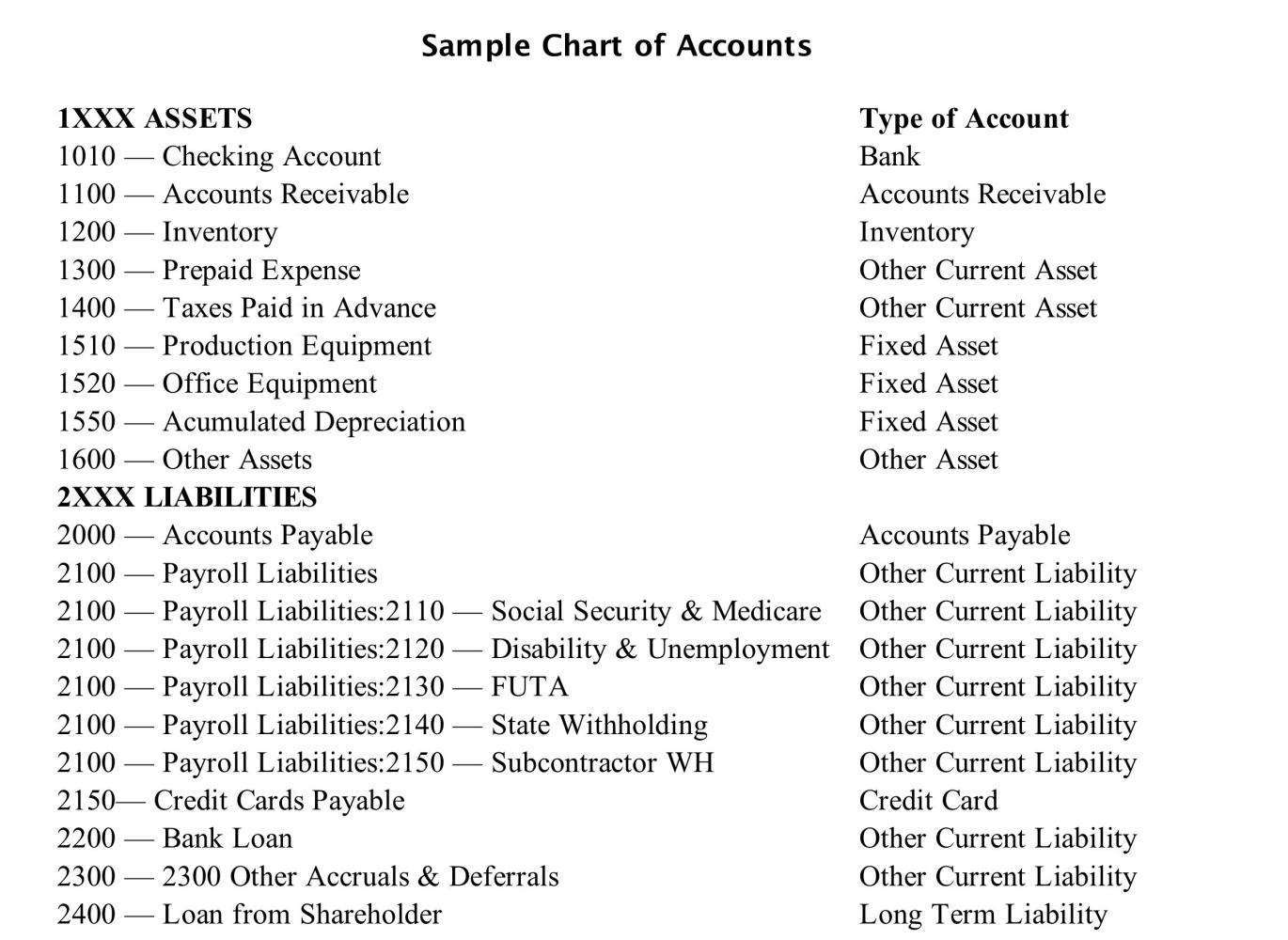 A chart of accounts for a non-profit organization, for example, will slightly differ because it will not have Shareholder's equity accounts in its bookkeeping records. It will also have Asset accounts that are labeled as either restricted or unrestricted, which you would not see on the Chart of Accounts in a for-profit business. Their income sources also differ.
Bottom line
We can give you an endless list of the chart of accounts examples, but what you should know is that it will differ for each and every company. Moreover, it can change over time for the same company as it adds more accounts to reflect changes in its business activities.
All you have to remember is that it is a list of all possible accounts a company can have. You should also be listing them in correct order to stay consistent with the accounting practices and to make it more convenient for you when looking for a specific account.
Nowadays, most companies use bookkeeping or accounting software that will automatically create a chart of accounts for your business based on the type of business you are. This allows not only to save time when setting up your accounting but also helps new business owners to have some guidance on what they might want to see in their chart of accounts.
You can further customize this list based on your individual needs and preferences. For example, you might have a general Office Supplies account or you can further break it down into Printing Supplies, Office Technology, Shipping Supplies, Cleaning Supplies, and so on. All these accounts will show up on the Balances sheet and Profit and loss reports. Thus, keep that in mind and set up accounts based on how much detail you would like to see in those reports.