Reading Time 5 mins
Landscape designers understand all the tricks of projecting and caring for home gardens. They can turn a customer's empty lot into a flower Eden. Such skills are vital to the prosperity of the landscape business, but pay attention to the numbers too. Accounting helps control a company's success and saves designers time during the tax period. Keep reading this article to study how to set up competent bookkeeping for landscaping business and properly track financial performance.
The importance of bookkeeping in the landscaping area
The bookkeeping of landscape design companies faces various challenges. Still, the main difficulty is that these firms focus more on the realities of design procedures and the execution of physical works while maintaining detailed financial records is relegated to the background. It is not because enterprises do not realize the importance of accounting. Still, it takes time to register each transaction, accurately calculate the work cost, and file tax returns, which business owners sometimes do not have.
The main component of accounting in landscape design is precise budgeting. In other words, without accurate economic data that entrepreneurs receive after analyzing the results of the company's activities, it is difficult to assess the organization's financial position and make effective changes to its financial system.
You can calculate how much a company has earned in a year. Still, without professional bookkeeping for landscaping business, you won't know the share of materials price in the total cost of service or how successful the employment structure is. A qualified accountant will assist you in creating a unique business plan that guarantees you get the most out of your skills, knowledge, and labor.
The basic accounting reports in the landscaping industry
Financial statements are documents that a company prepares to show past and current results of its activities. If you plan to write economic papers as a landscape designer, we recommend that you study a few mandatory reports to make accurate financial forecasts:
The cash flow statement contains data on where the funds come from and where they go. It allows you to assess the level of profitability of the business. You can use such securities to determine how the cash flow has changed between two selected dates.
The profit and loss statement shows you how successful your firm is by giving you an accurate picture of your financial performance. By learning how to interpret this document correctly, you can determine if your enterprise is heading in the proper direction.
You can make some financial reports for specific teams in your landscape business, e.g., analyze different parameters to determine the cash flow of each department. Consider whether it is worth creating papers monthly, quarterly, or yearly.
No More Bookkeeping Stress
Keeping proper financial records is time-intensive and small mistakes can be costly. BooksTime makes sure your numbers are 100% accurate so you can focus on growing your business.
Main features of accounting software in the landscape industry
Accounting digital products are a must-have if we speak about landscape firms. Such programs allow you to optimize various processes and increase the team's efficiency. Consider what functionality the best accounting software for landscaping company offers:
Purchase order control: this option is necessary to monitor materials that may be useful in work performance and various aspects of interaction with subcontractors. A purchase order is a trading paper created by the buyer and submitted to the seller, specifying the commodities' category, volumes, and agreed value. If you buy turf or plant materials in bulk, records must be kept to ensure you are paying the fair value of the goods. Such work can be delegated to a particular application.
Inventory management: if your firm stocks the most popular supplies, including mulch and turf, you should monitor how much of these supplies are in stock. Lack of constant inventory control can lead to a loss of income you did not know about. A reliable program will tell you what products are in stock and notify you if you need to order a new batch of goods.
Cost of activity: the final price of services depends on many factors, including the resources spent, time, etc. The virtual system analyzes all the available pricing components and gives you the work's fair value with a few clicks.
Trusting customer relationships is vital to the smooth running of a landscape business. To raise your company successfully, you must use a platform that makes it easy to control leads and referrals. It will help you segment your customer base for marketing, keep track of pending offers, and tag users to do quick searches.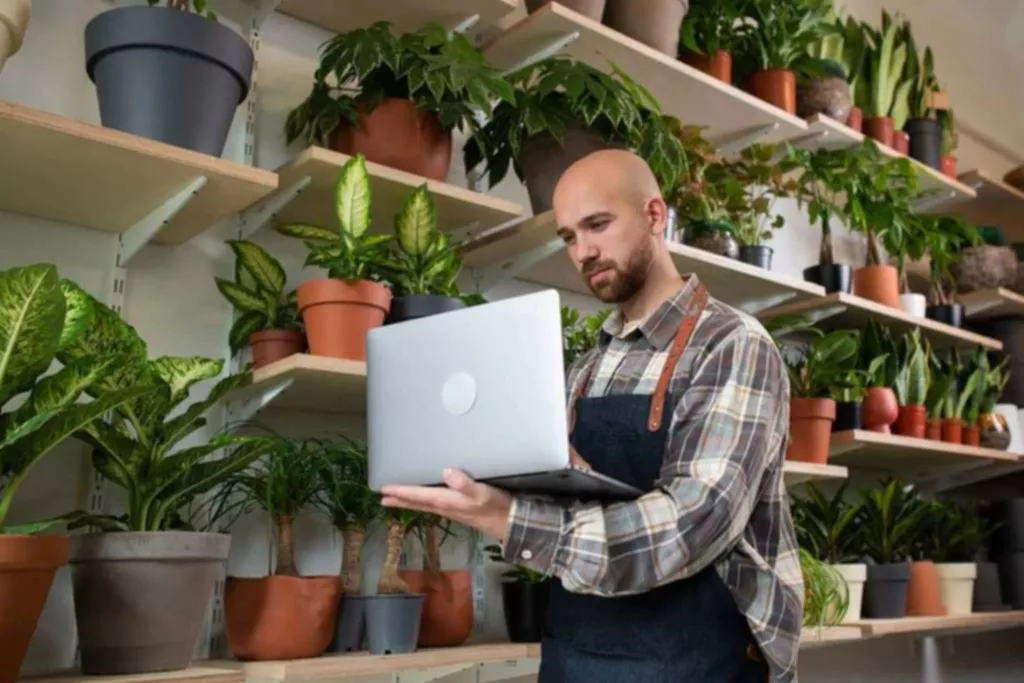 Landscaping business bookkeeping recommendations
Effective bookkeeping provides the correct demonstration of each procedure. Many entrepreneurs start thinking about accounting only when preparing taxes. Still, such a careless attitude to financial work throughout the year can result in inaccuracies in tax documents and severe fines. If you are thinking about how to organize landscaping business, we recommend following the rules listed below.
Divide individual and business spending
Ensure you have a bank account only for the company's economic settlements. Deposit the funds from commercial activities into this account and check whether they cover landscaping costs. You can also receive a business credit card.
Such an algorithm lets you define how much you spend on the company's performance. It guarantees you will not confuse personal spending with landscaping expenses.
Determine the accounting method
You, as the owner of a landscaping business, should choose from two bookkeeping methods when filing tax documents:
The cash methodologic is a more straightforward option, which offers to display gardening expenses in accounting at the time of capital withdrawal and the recording of income after the capital has entered the account.
Accrual accounting involves calculating earnings and costs as they occur, even if the amount in the accounts remains the same. Such a bookkeeping option requires more input from you, but it creates a clearer picture of the company's financial position.
We recommend you contact a landscaping bookkeeper before deciding which accounting technique to implement to help you determine what approach provides you with the best tax benefits.
Control earnings and spending
Entrepreneurs must report all their earnings to the IRS; violating such a directive may result in the competent authority reviewing your tax records and reassessing the obligations against unrecorded capital inflows.
However, you can deduct selling spending from your earnings. If you don't keep a lawn care business expenses spreadsheet, you'll deal with more considerable tax obligations than you should. Apply bank deductions to control the outflow of money.
Is it worth doing all the procedures yourself or hiring an accountant?
Initially, many landscape designers handle all financial procedures, which is cheaper than interacting with a specialist.
As your business expands, you will have to decide whether you are willing to spend on detailed number processing instead of focusing on developing a client's unique lawn design. Interactions with an experienced bookkeeper to guarantee capital control will allow you to concentrate on managing those aspects of the organization in which you are a professional.
A qualified CPA will help you complete your tax paperwork. He analyzes the trend of business development through financial papers. Such an accountant provides all the data you need to resolve economic issues before they become significant problems.
Final thoughts
BooksTime strives to make your landscaping as efficient as possible and improve the company's financial position.
If you are planning to launch your business and want to choose the best software, the experts have all the necessary knowledge and tools to make your firm prosperous.
Under the constant supervision of professionals, you will learn how to analyze cash flows properly, budget, and prepare for any force majeure. Find responsible and reliable bookkeeping for landscaping business. Start working with BooksTime experts today.