The traditional manual Accounts Payable process consists of many tedious steps that have to be repeated for every bill that you pay. With Bill.com, payments are made with just a click, on terms, on time and every time. Also, all data syncs from leading accounting solutions to Bill.com and then back again. So, what is Bill.com?
Bill.com is an intelligent digital business payments platform. It allows saving about 50% of your time on Accounts Payable compared to other methods. With visibility and control over Accounts Payable approval and payment workflows, you will have more time throughout your day to work on more meaningful and profitable tasks without having to worry about a messy manual Accounts Payable process.
Overview of features
With the help of Bill.com, you can automate and simplify your Accounts Payable process. Here are just some amazing features:
Risk-free trial
Synch with accounting software
Run AP and AR remotely
Pay international and US vendors and 1099 contractors
Store invoices and related documents
Access via desktop smartphone, or any mobile device
More organization and control
Intelligent virtual assistant Ava
How Bill.com Works
Let's take a closer look at the Accounts Payable process. With Bill.com, it takes just four simple steps to receive and pay your bills.
1. Email or upload bills
Traditionally, invoices come from vendors and suppliers in different ways. This way, you are wasting time manually entering invoices into your payment system and encountering problems like data entry problems, duplicate bills, and lost paperwork. Your first step is to get your documents into your dedicated Bill.com inbox via email, fax, scan, upload, or simply drag and drop, so all your invoices are stored in one central location. Vendors can also send invoices straight to your Bill.com account.
2.Data entry
The next step is to code the bills by entering information. Ava, an intelligent virtual assistant, will help you by automatically capturing the data, like the date, vendor name, and payment information. Besides reducing the time spent on data entry, Ava gets smarter over time and helps to prevent errors, like duplicate invoices.
3.Get approvals
This step can be optional or mandatory. You need to assign and route the bills for approvals. You can create business rules and add multiple approvers. Approvers get automatic notifications on their overview screen, to-do list, email, and their mobile device if they are away from the desk. This way, there will be no more chasing or waiting for approvals that can delay payments.
4.Pay
Your final step is to pay your bills. Bill.com can pay bills in a variety of payment options, including the support of different currencies. So, if your vendor or supplier accepts only a virtual card, ACH payment, paper check, or international wire transfer, you are still good to go. You can pay a single, bulk, and recurring payments.
As a result, you will save your time, have more organization and control over your back-office, and because you have access to AP at any time and from anywhere, the entire Accounts Payable audit trail is always at your fingertips – everything from receipt to settlement.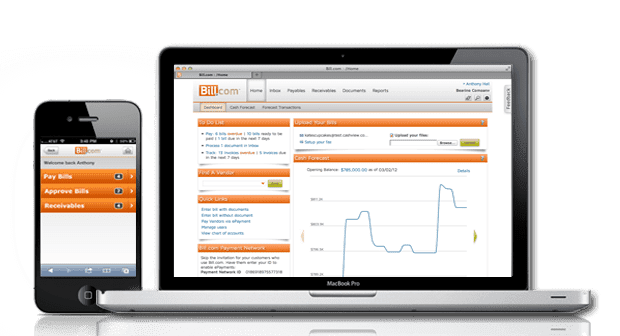 Benefits of Bill.com
Informative and easy-to-navigate platform
On the overview screen, you can see all your payments in and out as well as the current AP approval status. You can quickly see if there are any outstanding items that need immediate attention, and you can deal with them right from the overview page.
Besides being able to organize and store all your invoices in one place easily, you will also be able to keep contracts, quotes, receipts, and other vendor documents in one location. This greatly simplifies vendor inquiries and audits.
Automated check and ACH payments
Businesses still use checks to avoid credit card fees, and some are just old school. After you create and pay a check in the Bill.com software, it will do the rest for you (pull the money, cut the check, put it in the envelope, and mail it). You will be able to track when the check was sent and cashed. The same goes for ACH payments. Bill.com facilitates the entire process, so your vendor does not have to disclose bank account information to you.
Synch the purchase orders
For purchase orders created in accounting software, you can synch the purchase order (PO) with the Bill.com for matching. The Ava assistant will automatically capture the PO number to save you time. With purchase orders and invoices in one place, you know exactly what you ordered and how much you paid for it.
Synch with accounting solutions
When you first start, Bill.com brings in all vendors and suppliers from your accounting software, so that no time is wasted. Bill.com will retrieve the data from your accounting solution and then synch it back, which eliminated the need to enter the data twice. The journal entries will be synched into the accounting system in just one click. This will also save you time when doing bank reconciliations and month-end closes.
Bill.com Pricing
Bill.com has multiple plans with pricing that ranges between $39 to $69 per month. It starts with basic features, and as you add features such as integration with accounting software and payment and invoice automation, the price goes up. There is also custom pricing for large enterprises that have more going on in their business and need even more features.
Accounting firms can also turn to Bill.com. They will pay just $49 a month for streamlining the Accounts Payable and Accounts Receivable process and a simple way to manage the practice with a to-do list and access to clients. They can also receive product training with CPE credits, have access to an accountant resource center, and even one-on-one coaching.