Reading Time 7 mins
The beauty of progress is that it never stops. Every industry comes up with various optimizations to make its processes better, safer, and modern. In the business industry, one of the most important areas is accounting.
In the past, people used to capture all financial operations on paper. Luckily today, it's not the case. Businesses even switch from Excel accounting to automated accounting. New trends emerge in the accounting area to facilitate the process.
Businesses determine whether they are successful by using numbers. It's why accountants are so critical to companies and organizations. And that's why people come up with new ideas associated with accounting.
The job of an accountant is to understand numbers, but it's a very simplified explanation. Accountants have to keep up with the latest trends to offer the best services. Our article is focused on potential and existing trends in accounting. If your job is related to the financial industry, consider getting acquainted with these latest trends.
Major Trends in 2022
One of the critical aspects of accounting is to be aware of the latest trends. CPAs (certified public accountants) have to go to great lengths to learn new technologies. They have to pass exams and keep studying throughout their careers as CPAs. But it doesn't mean ordinary accountants can avoid the studying process.
If an accountant working for a company doesn't keep up with the most useful trends, they won't be able to offer the best services to the business.
Most businesses are used to working with automated accounting software. It's why we often see among the demands of specialists knowledge of specific software. Accountants should offer automated accounting services, preferably, so businesses have remote access to their data.
The expectation for accountants to be acquainted with software isn't coming just from the clients. The recent survey done by the Association of Certified Chartered Accountants shows that over 50% of C-level employees related to the accounting industry expect an increase in the development of automated accounting technologies.
If you are one of those employees, and you prefer to be ready when new technologies emerge, keep reading the article to learn more about some of the most exciting and useful technologies which may change the world of accounting. Learning about new trends is especially important if you are planning a career as an accountant.
Blockchain
Blockchain technology has revolutionized the world. This technology changed how we see financial operations. But it has other useful features which can be applied in many other industries.
Blockchain is the distribution and decentralization of database technology. It's a perfect choice when someone needs to protect and encrypt data. Moreover, it is helpful when it comes to maintaining and increasing the list of transactions among different parties, such as businesses, partners, and clients.
Blockchain can bring useful features to finance. Moreover, it may entirely transform the industry for the best. The basic principle of modern accounting is a double-entry bookkeeping system. According to the system, an accountant and sometimes an auditor input and verify a business's financial data.
This method is outdated and takes too much effort from different parties. Blockchain aims to eliminate redundancy thanks to an automated verification procedure. It means another party won't have to verify the operation. Blockchain guarantees an automated audit of each transaction.
There is another problem blockchain technology can fix. When conducting transactions with multiple parties, each party usually keeps its records. Such operations produce tons of documents, even if digital. It's counter-productive and time-consuming since often different parties need to consolidate to check the differences between records.
Blockchain is using cryptography to enable companies or organizations to use a common data retention network. Both parties have access to the shared ledger. However, accountants, auditors, and the company maintain a privately managed database.
No More Bookkeeping Stress
Keeping proper financial records is time-intensive and small mistakes can be costly. BooksTime makes sure your numbers are 100% accurate so you can focus on growing your business.
Cloud Computing
Students who are about to get a degree in accounting at college should pay a closer look at cloud computing technology. There was a recent shift in the industry towards implementing computing technology. So it's worth attending courses to get a certificate in this field.
The recent study conducted by the IT advisor Gartner estimates that worldwide spending on public cloud services should grow from $275.5 billion in 2010 to more than $304.9 billion in 2021-2022. It's a growth rate of 18.4%, which is a lot.
Many have heard the word "cloud," and they understand what it usually means — storing information on cloud services. But what does cloud computing mean? Cloud computing is the storage and accessibility of business data online. It's not stored on hard drives — this method is outdated, requires maintenance, and is barely adjustable when a company needs more storage space.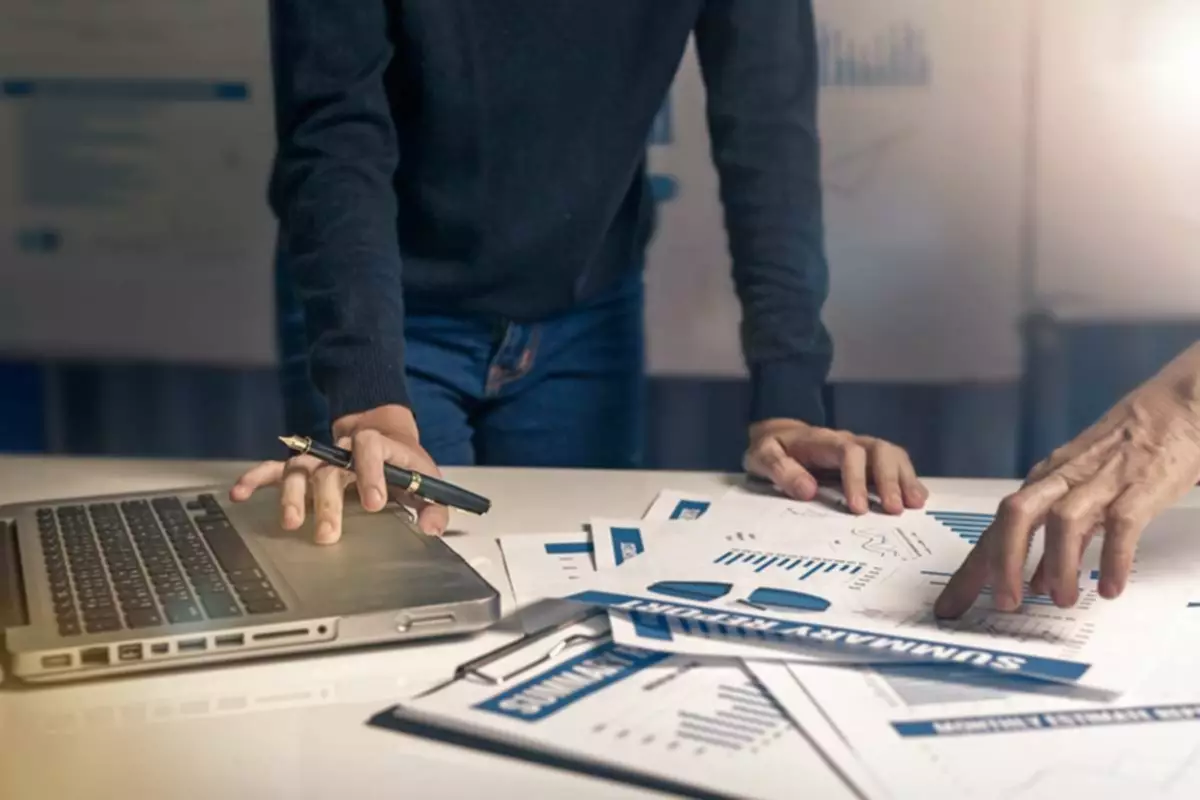 Getting access to the cloud guarantees a free flow of information between parties at any time. It doesn't matter where you are or what device is used. The cloud opens access to clients and co-workers to specific data. It is a lot easier to collaborate when someone can easily open access to certain data, like accounting documents.
If you are a student, consider attending classes related to cloud computing. It's a very popular technology in the accounting area, and its popularity will only grow. The most popular cloud computing software is Kashoo, QuickBooks Online, FreshBooks, and Xero.
Note: cloud computing is typically based on subscription agreements. To store and get access to data, users must pay to get a subscription. The good news is that typically, the price depends on how much storage space a business needs, the type of services they require, etc.
The services usually include asset management, multi-currency accounting, purchase orders, etc. If a company is small, the owners won't have to pay a fortune.
Optical Character Recognition
Back in 2016, one peculiar technology made the lives of accountants worldwide much easier. The technology is called optical character recognition (OCR).
But what exactly is an OCR? An OCR application scans the document, usually printed, and then converts it to a digital machine-readable text. Yes, it's a technology mainly used in receipt scanning applications that makes the lives of accountants easier when it comes to calculating deductions and credits.
Employees can now upload digital copies of scanned documents and share them with other people thanks to optical recognition. The usage of OCR tech in accounting helps accountants when they must conduct a digital search to find the information needed to do the job. They may also edit or copy information they get access to when using OCR.
Here's just a small portion of what OCR enables you to do:
itemize receipts;
track business expenses;
organize invoices.
Using OCR also means reducing the number of documents. Instead, all digital documents are stored safely on a cloud server.
Undoubtedly, knowing how to use OCR tech is a must for every accountant. It's a valuable professional skill and makes every accountant highly compatible within the workforce market.
Automated Accounting
Automated technology is the aim of most companies and organizations. Even though it could be problematic because of a replacement of human work with technologies, it's still one of the main tasks. Implementing automated tech means an eliminated need for data entry required in the business industry.
This task to automate the industry is worrisome to accountants. What if the industry will no longer need their services? But that's not the case. This shift may be beneficial to accountants if they learn how automated programs work. As a result, they will be more competitive and can expect bigger incomes.
This knowledge of automated technologies should be valuable to employers as most industries are now moving away from time-based billing. People who know how to operate automated accounting systems are going to be in high demand among companies and organizations.
It means accountants have to learn how to integrate this knowledge into their services, but it should definitely be helpful to keep the job and grow as an expert.
Some studies show that automated technology will make accountants' lives easier. This technology aims at providing accountants with tools that cut down the time on manual entry. Automated tech also reduces human error.
AI and Machine Learning Trends
Some time ago, people associated artificial intelligence and machine learning with science fiction movies, like Matrix. But today, it's our reality, and AI technology helps with improving various industries. Moreover, these technologies may even be helpful in accounting!
AI & Modern Accounting Systems
A well-known media company, Forbes, that focuses on business trends, forecasts that the usage of AI tech may improve business's productivity by 40%. In accounting, AI may help with repetitive tasks. AI aims to reduce the time spent by accountants on redundant tasks.
For instance, the list of redundant tasks include:
payroll;
auditing to find errors;
uploading files;
sorting through data.
The list can go on, and it explains why AI in accounting is godsent. Thanks to AI, accountants can focus on more important tasks, for instance, analyzing and interpreting data to produce reports. The management of the company needs such reports to make wise decisions related to business operations.
Machine Learning
A tiny typo may do a lot of damage. The usage of machine learning may reduce, or even eliminate the occurrence of such typos and mistakes. It should also help with reducing the time accountants spend on redundant tasks.
Machine learning tech develops tools and mechanisms that recognize patterns and either report or automatically fix errors. That way, an accountant can easily spot and fix a problem before it does damage to the company.
Final Thoughts
Stay in contact with the latest trends to be competitive within the workforce. It's an important task even if you aren't a CPA who has to go through various testing regularly. Accountants typically make more money than other experts since it requires having valuable skills.
Improving one's skills is the best way to stay competitive and get more income. Typically, those specialists who have skills in the latest technologies are more valuable to employers. Consider studying more about these latest trends to figure out if some of them may be helpful for you in getting a dream job with significant revenue.