Reading Time 6 mins
The medical billing process is full of complexities. Transforming notes to standardized claims may be error-prone, and insurance companies have rigorous rules for claims arrangement. Even if your requests are granted, insurers seldom transfer the total amount quickly. The best thing you can do in such a situation is to put in place clear working procedures for all types of work involved in filing claims and obtaining refunds. Our guide will help you in this matter.
The definition of medical billing
Health billing is the procedure of submitting a claim to and tracking its processing with health insurance firms to get payment for services provided to your patients, who are also insurers' customers.
The healthcare billing process has several phases that form the healthcare billing cycle. It is vital to avoid inaccuracies at every stage to receive timely payment. This process includes insurance verification, coding services, and submitting claims to the insurance organization. A streamlined invoice process reduces the risk of claims being rejected. According to data published in Becker's Hospital Review, 80% of medical payment documents contain inaccuracies.
Critical phases of medical billing
The billing process in the healthcare area is a complex system that requires many steps to be taken to guarantee precision and efficiency. The medical billing groups make every effort to ensure bills are processed quickly and correctly. Let's analyze the algorithm of actions.
Patient registration
It is the initial phase in any healthcare billing mechanism. At this stage, you need to gather fundamental demographic insights, including name, date of birth, and reason for the visit. It is also necessary to analyze insights about insurance, including the guarantor's name and the client's policy number. Based on this information, you can form a file you will refer to when billing.
Checking insurance
Once you obtain the patient details, call the insurance firm to confirm they are correct. Most insurance cards have phone numbers that you may call to verify your details. Ask the guarantor what coverage the patient has chosen and what benefits they can expect. This ensures that the insurance organization will be able to process invoices with a minimum probability of rejection.
Working with codes
The American Health Association has issued specific guidelines that qualified coders use to convert medical data into a code that consists of letters and numbers. This information includes:
the reason for the visit
diagnosed diseases,
the treatment prescribed by the doctor
place where medical services are provided.
Today, several coding systems are used: the International Classification of Diseases (ICD), which corresponds to the problem, and the codes of current procedural terminology (CPT) associated with the treatment.
Charge entry
At the end of the coding, the medical service enters the healthcare costs into the billing program. This data is then checked for authenticity and completeness. If any discrepancies are found, you must eliminate them immediately before sending the claim to the insurance firms.
Filing claims
Once the claim is valid, the next step is to file it. In most cases, the application is transmitted electronically to the clearinghouse, a third-party organization that acts as an intermediary between the medical institution and the insurer. The exception is large providers, e.g., Medicaid, who accept the application directly from the provider.
Posting a payment
The final phase includes posting and deposit options. The sum billed to the patient will be zero if the insurance fully covers the diagnosis and therapy or displays the sum the sick person has to pay. At this stage, the insurer pays off reimbursement.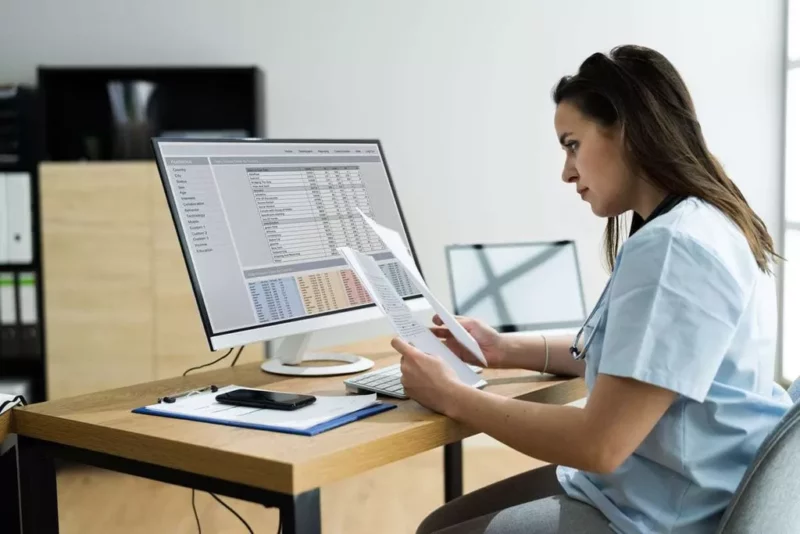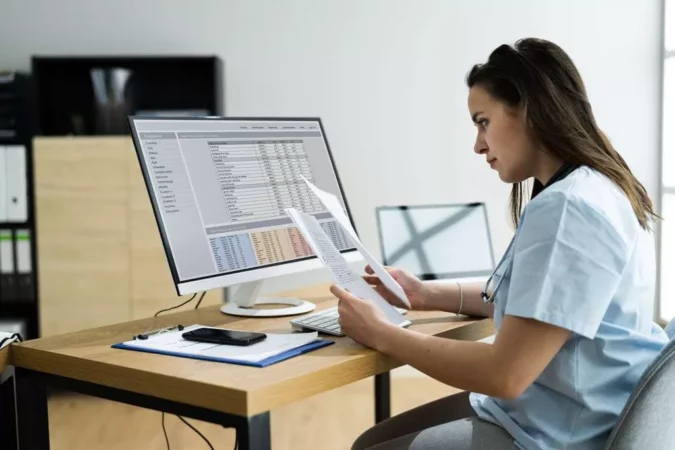 Main scenarios for considering a claim
Adjudication is when payers estimate and define whether applications are correct or incorrect. Insurance organizations either satisfy the claims or send a refusal. Consider the most common options:
Variant 1: payers accept claims without coding or data entry inaccuracies. Upon application acceptance, you will get an Explanation of Benefits (EOB) report.
Variant 2: if essential data is missing in the application or the specialists made a mistake in coding, the insurer must reject it and send it back. In such a situation, making adjustments and submitting the claim once more is necessary.
Variant 3: if the procedure is not included in the patient's medical policy, the insurance firm rejects the application. You should notify the patient of their economic responsibility.
Often the verification of applications takes longer than expected. You can contact the insurance firm anytime to clarify the claim status.
Types of medical billing
Today there are different categories of healthcare billing systems; they all include protocols and procedures that function in an integrated manner. Most often, medical institutions choose the next options:
Professional systems are chosen by individual healthcare operators, e.g., therapists and dentists, to receive payment.
Hospitals, clinics, and other medical institutions use institutional systems.
Medicare billing works with billing documents for Medicare services, a public insurance project for people over 65.
The Medicaid system was created to deal with the state Medicaid project, which is designed for people with low incomes and limited resources.
Each category of medical billing has its requirements and standards. Healthcare providers must be clear about the different billing categories to ensure accurate and timely payment for their curative services.
The importance of the medical billing system
According to a survey organized by Inbox Health, the main difficulty faced by medical institutions is problems with insurance compensation (this type of activity causes difficulty for 69% of respondents). You can simplify this activity by implementing an accurate medical billing system. Other benefits of this solution are:
Process streamlining: automatic payment reminders, insurance checks, and electronic claim submissions.
Minimize human error: memorizing hundreds of medical codes is unrealistic. Advanced billing systems let you scan papers and extract essential data for medical coding.
Customized billing solutions assist your organization in achieving business goals. Electronic verification systems enable you to control the patient's eligibility for insurance with several clicks.
Challenges in medical billing
It is vital to perform all tasks related to the medical billing process correctly. The inaccuracies in any phase can be costly regarding profit, administrative burden, etc. Let's take a look at the most common mistakes so you may avoid them:
Denials happen when an insurance company processes claims and rejects them. Waivers can be soft, hard, preventable, clinical, and administrative. Most denied claims are preventable, and most can be resubmitted after corrections have been made.
Lack of automation: manually processing each claim is time-consuming and raises the number of claim returns. By refusing to implement special programs, you miss the opportunity to receive advanced medical claims reporting.
People have been responsible for most of their medical expenses in recent years, requiring medical teams to focus more on collecting patient data and confirming insurance policies. According to the Kaiser Family Foundation, patient cost-sharing has increased by an average of 63% over the past decade.
Some advice on how to refine medical billing
The prosperity of your medical institution largely depends on how effective billing is. We have put together a few expert recommendations that will assist you in improving your interaction with payment documents right now:
Update data in real-time: the world is changing; patients who came to see you a year ago may have changed insurance providers or are now insured under a new spouse's policy. It is essential to refine and update all data in the file regularly.
Monitor rejections: application problems are usually caused by insufficient documents or incorrect coding. Regularly monitoring failures lets you see and fix gaps in your processes more clearly.
Dealing with different insurance organizations is challenging because each uses its own set of protocols to be followed during the application process. Organize refresher courses for employees to get all the necessary information about the protocols and successfully deal with them.
Benefits of outsourcing medical billing
If the medical practice is not large enough to employ its staff to handle accounts, it should consider outsourcing such duties to an outside organization. Consider the main advantages of outsourcing the medical billing process and audit:
Reducing the number of calls: the phone rings non-stop in the doctor's office, distracting from other activities. With outsourcing, billing requests will be routed to authorized professionals so physicians can focus on patient needs.
Increasing customer revenue: healthcare providers lose capital yearly due to rejected claims. Outsourcing prevents capital flight by guaranteeing a continuous flow of claims.
The world medical billing services outsourcing industry is expected to rise from $2.17 billion in 2022 to $20.98 billion in 2026.
Final thoughts
As you have already understood, medical billing and coding inaccuracies can result in significant financial losses and administrative difficulties for medical organizations. Outsourcing your healthcare billing to a trusted third party like BooksTime may be crucial.
With BooksTime, you can be sure that your billing process will be done with the utmost precision and attention to every detail. Our group of specialists has years of experience with billing documents, and we comprehend the unique challenges healthcare providers face.