Doing business requires careful consideration of profit and cost accounting. The accounting department and the finance department must work closely with each other, doing everything possible to account for the activities of the enterprise. For this, a special document is drawn up – a financial report, based on the results of which the strengths and weaknesses of the business aspects make it easier to achieve the business goals.
The Statement of Comprehensive Income should be prepared by any larger corporation and a growing business seeking new investors or operating in multiple countries. The statement itself can consist of either one document or several. As long as the company follows all of the rules of the GAAP or IFRS standards for accounting for other comprehensive income, it should not be difficult for it to report it.
Definition
The most important component of the Statement of Comprehensive Income is the traditional company's net income. At the same time, net income only takes into account income received and expenses incurred. Yet, there are times when a company makes a profit or loss as a result of changes in the value of its assets. The results of such events are not reflected in the Income Statement. Thus, another component of this statement is intended to reflect other comprehensive income or losses. The sum of these two components is a total comprehensive income. Comprehensive income is essentially the same under both the IFRS and the U.S. GAAP set of standards.
Structure
Although your business may not need to be concerned with a Statement of comprehensive income, it is always good to be aware of what goes into this financial report. There are two main sections:
net income or loss
other comprehensive income.
The second section includes income and expenses that are not recognized in profit or loss, but are reflected directly in equity (see illustration below). These items are not typical for small and medium-sized businesses. That is, the section of other comprehensive income is mainly applicable to large corporations that face such financial transactions.
A business can also choose the presentation format for the report and present one statement or two separate statements. It should also be brought to your attention that the accrual accounting basis is used in both cases. This means that income is recognized when it is received, not when cash is received. Likewise, expenses are recognized in the Income Statement as incurred, even if they were paid in the previous or subsequent reporting periods.
Example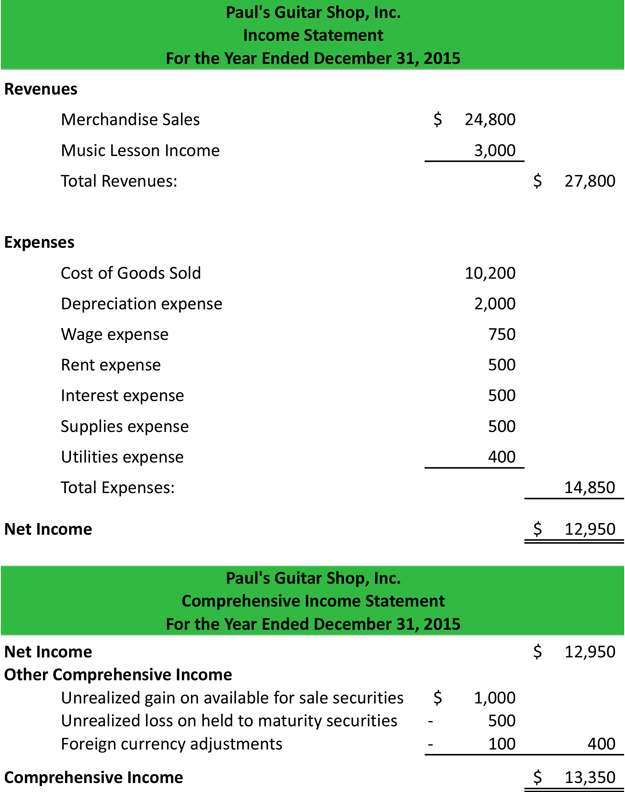 Here, we have an example of such a financial statement. At the top, you can see the basic information about the company and basic information about the report. As you can see, the first component is taken directly from the Income Statement. Then, we have items that fall under the other comprehensive income. Both sections give a comprehensive income amount.
How to distinguish other comprehensive income from profit/loss and changes in equity?
When determining where an item should be reflected, ask yourself two questions:
Is this change a result of operations or is it a change in equity related to shareholders?
That is, the reports must clearly show why net assets increase or decrease. If this occurs through transactions with shareholders, then it is reflected in the Statement of changes in equity. If this is due to the company activities, then in the Statement of comprehensive income.
If you have determined that these changes are related to the company's activities, ask yourself:
Does IFRS (GAAP) allow these changes to be reflected in other comprehensive income?
Accordingly, if IFRS requires these changes to be reflected in other comprehensive income, then they must be reflected in the appropriate form. If not, then they must be reflected in the Income Statement.