Going paperless is the way forward, and most organizations are seeing it as a method to go green and save the environment. Many businesses are also looking to do away with redundant practices and gain a competitive advantage in business. Are you ready to transfer your Accounts Payable to a paperless system?
How Does It Work?
With paperless invoicing, you would use your bookkeeping software or a special program/software that generates invoices to create and send invoices no matter where you are and what time of the day it is. The software usually allows one to customize the template of the invoice to reflect the company's image.
Many fields will also be automatically prepopulated for you and you will just need to choose a client from the list, enter the amount of the invoice (or it can be pulled from projects, etc.), due date, and submit it for approval, if any. The individual/s who have the right to approve the invoice can also do it right from their mobile phone or any other device. Once approved, the invoice can be sent to the client with a simple click.
The client will usually receive the invoice in a PDF format via email. They might also receive any photos and other documents related to the invoice that you can attach to it. To make the payment simpler and faster, you can enable a direct deposit feature. This means that the client can pay for the service or product right from the invoice. No need to write checks, mail them, and wait to be processed.
Online invoicing software also allows you to track the history of invoices all in one place, share and download them, and see if the clients viewed and/or paid the invoice. If necessary, you can send automatic payment reminders, which your clients will surely appreciate and you can benefit from better control of your Accounts Payable.
Why Go Paperless?
Faster Invoice Approvals and Payments
Sending paper-based invoices is a long process that involves a lot of time and resources. Online invoicing using specialized software helps to automate the sending and approval of invoices. One can easily schedule the invoices to be sent and they can be sent to multiple contacts, so whoever is available can process the payments on time. Additionally, in a paper-based invoicing process, regular reminder calls are necessary for timely payments. Online invoices completely transform this because automatic reminders can be sent to the invoice recipients, making the process much more efficient.
Simplified Management of Invoices
Tracking and managing a large number of invoices is a cumbersome process in a paper-based system. The chances of an invoice getting lost in transit are huge. Simplified invoice reports from software that supports invoicing help with regulation and tracking of the status of payments and timely actions can be taken to minimize overdue invoices.
Manual storage of invoices entails huge costs in terms of both paper and place. Large spaces have to be dedicated to storing paper invoices safely. Archived invoices have to be constantly managed, requiring additional time and resources. Paperless invoicing helps invoices to be shared in a digital format and can be accessed anytime and from anywhere. This saves time and resources.
Historical invoices can be difficult to search in a paper-based system. If one has to find an invoice, no matter how old it is, and know the name of the client, it can be quickly located using an online invoicing solution. One can use multiple search options, like invoice number, date, client name, outstanding balance, etc.
Chances of employee fraud and other such practices are high when it comes to the paper invoicing system, where the process is complicated and involves different people signing and approving the invoices. Tracking approvals online and the date on which the invoice was sent, approved, and paid can be easily done. This makes the audit process less time-consuming and simple.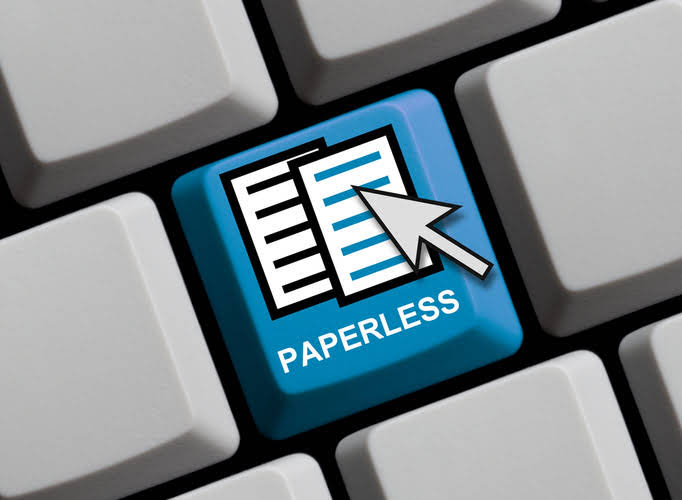 How to Go Paperless?
There are several steps you can take to achieve this goal. This guide will help you get started in the right direction.
Digitalize what is already on paper. This step will allow you to get rid of all the clutter that you already have in your office or any other space.
Search for software. To be able to be paperless, you would need a software that can store your information in a safe and easily accessible way. We recommend looking for cloud-based solutions because that way your information will be accessible no matter where you are. There are many solutions for digitalizing and automating your bookkeeping and accounting, including invoices. There are programs/apps that allow to simply store and share documents, while others let you take digital notes and make online payments.
Make all activities digital. Even if you are not printing anything, you might be receiving bills and other info, such as financial reports, in paper format. Thus, start paying your bills online, sign up for email newsletter and other notifications, etc.