Reading Time 6 mins
Accountants, too, may find remote accounting jobs and open an opportunity to travel the world without being tied to one physical location. The part about traveling the world is, of course, optional, but you get such an opportunity if you work remotely in accounting.
The pandemic changed the way employers hire workers. This change offers an opportunity for people to work remotely when they can't work from an office; for instance, some specialists have children and can't hire anyone to handle childcare.
The article focuses on accounting jobs part time and full time. Readers will learn what prospects they have. Our guide also has a few tips on finding a suitable job in 2022 and 2023.
What skills do you need to become a remote accountant?
Accountants can work from home without needing to acquire new skills. Bookkeeping and tax accounting are only a few of the remote accounting duties. Therefore, locating remote accounting jobs that match your criteria is simple. Contingent upon the business, sector, or job description, you can need the following credentials:
A university degree of a bachelor of statistics, accounting, economics, or a closely related field.
A university degree of a master of business administration or accountancy (finance major).
CPA certification (Certified Public Accountant).
Knowledge of bookkeeping or accounting.
Understanding how to utilize particular tools or software.
Flexibility, problem-solving, teamwork, and effective written and verbal communication abilities.
It's just a list of potential requirements. Each position requires different sets of skills and years of work experience. Moreover, entry level jobs demand fewer skills, so talented people can start the careers of their dreams.
What software and tools do you need to master?
Technology has accelerated the development of accessible solutions that enable working from home or a remote area. There are many secure and affordable options to purchase. While some companies supply remote employees with the necessary tools, many remote accountants may still require their tech stack.
Consider cloud-based apps if you're seriously planning a remote or freelance job. Here are a few advantages of these programs:
Simple and secure data access. Such a feature enables users to work with invoices, receipts, and reports from anywhere.
Improved teamwork and collaboration. It's critical to have apps that enable users to work in teams since colleagues or clients can view the data and participate in the process.
Improved accuracy. Most cloud computing programs enable accounting automation. These apps automatically update bank reconciliation, journal templates, recurring billing, payroll, etc.
Better security. Critical data is secure in case of loss since the app provides backups.
Accelerated speed. Most cloud-based applications offer automatic security and don't need time-consuming backups and upgrades.
Consider buying secure cloud-based software if you plan to work as a freelance accountant. However, investing in such tools is unnecessary if you want to find a remote job in a firm. It may provide employees with the necessary tools.
If you're into freelance work, check out such options as QuickBooks, Zoho Books, Xero, Freshbooks, etc. The cost of a subscription plan depends on the app. Communication apps may include Zoom, Google Meet, or Skype.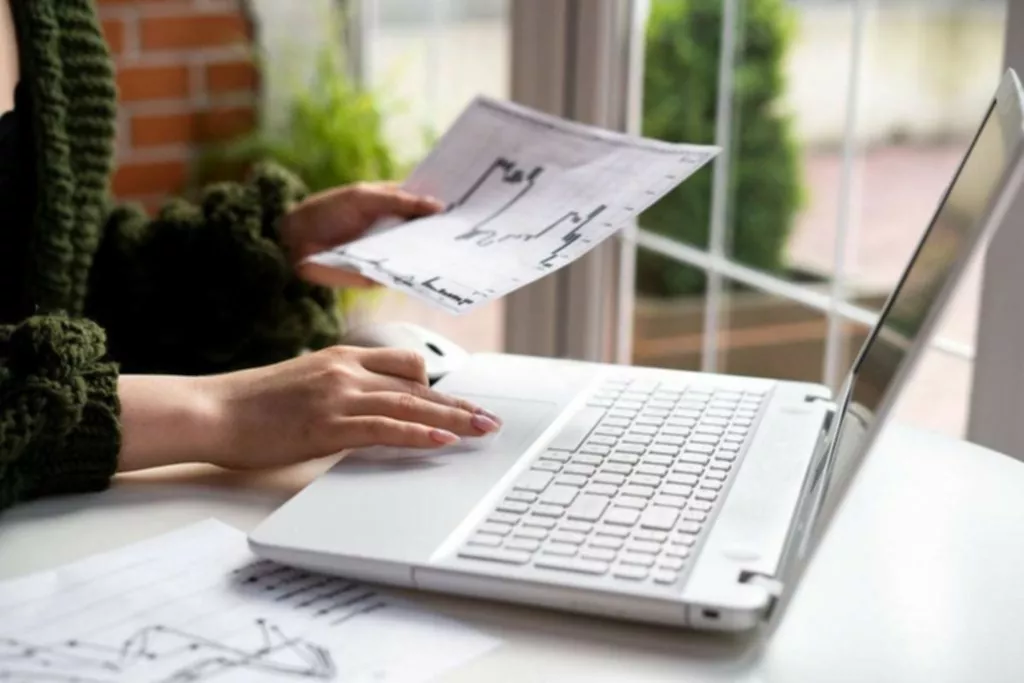 No More Bookkeeping Stress
Keeping proper financial records is time-intensive and small mistakes can be costly. BooksTime makes sure your numbers are 100% accurate so you can focus on growing your business.
What duties would you have?
Examples of remote labor positions include financial monitoring, bookkeeping, and accounting. The position of manager of economic initiatives is also open to you. Employees who work from home have similar responsibilities to those who are office workers. Depending on the line of employment, remote employees may be required to do the following duties:
Financial statement examination and authentication.
Tax preparation includes calculation and filing (if you have a CPA certificate).
Business assistance and consultations. These duties include examining the company's work and analyzing available resources to reduce expenses and improve financial health.
Streamlining financial records and books to ensure accounting methods adhere to best-practice criteria.
Payroll supervision.
Telecommuting accounting jobs also provide individuals with a variety of flexible employment options. Here is a list of these opportunities:
Full-time
Part-time
Contracts
It's clear about full-time and part-time jobs, but what about contracts? It's an option typically used by freelancers. Companies seek the help of experienced accountants for a certain period. The company and a freelancer sign a contract. It contains responsibilities and other essential details, including the salary and period of work. As you see, you aren't limited to office work.
Market opportunities and available job titles
The job of an accountant or bookkeeper is seen as a respected one. The need for bookkeeping and accounting is growing as more people start and expand their businesses. Because all firms strive to assure shareholder satisfaction, which necessitates accurate financial reporting, computations, and projections, the market is flooded with bookkeeping and accounting job offers.
The most significant advantage of choosing a remote profession is the convenience of applying for both full- and part-time accounting employment from home. In compliance with the figures, telecommuting accounting roles will rise by 4% between 2019 and 2029.
Telecommuting accounting offers many job titles and career pathways compared to other professions. Even a novice accountant may advance their career, take on additional responsibilities, and advance to a senior position with high pay and pleasant working circumstances.
Experts with great experience are either promoted or get better positions as managers, accounts supervisors, and partners. Many accountants advance to senior roles, such as firm management or taking care of internal audits. If working in accounting or finance remotely is your goal, you can find plenty of growth opportunities.
These are a few available options:
Accountant
Bookkeeper
Controller (regulates and oversees the creation of budgets, audits, and income reports, etc.)
Accounting Clerk
Auditor
Financial adviser
Project manager
Chief financial officer
Financial analyst
These mentioned titles apply to remote workers in the United States.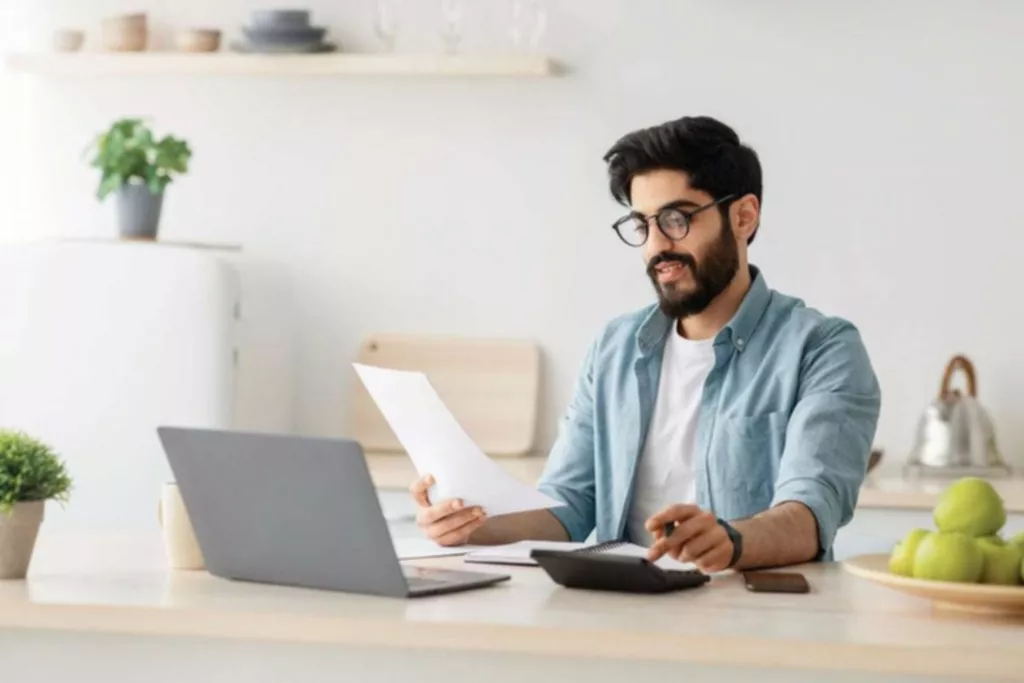 Tips on finding a remote accounting job
You must start a proper search to obtain the job title you dream of. We have prepared a few tips to help you find a remote accounting job with a decent salary.
Check remote accounting job offers online
The easiest option is to open a few websites where companies leave announcements about hiring remote employees. These announcements include the job name, duties, salary, and other details, including contacts. You may browse through these offers and find a few suitable jobs. Contact potential employers by email or by directly calling the company.
Typically, companies use job board sites. The most popular board sites include the following names:
Weworkremotely
Fiverr
Remote.co
Upwork
Justremote
Remotive
Another option is to check outsourced accounting companies. There are plenty of accounting firms hiring remote employees. Here are a few names to check out:
Bookkeeper
Bench
bookkeeper360
Accountingdepartment.com
Indinero
Pilot
It's also a great idea to choose a few huge accounting, audit, finance, and advisory firms. These companies are always in need of experienced employees who can work remotely. Here's a list of names to check out:
Deloitte
Ernst & Young
Grand Thorton
PricewaterhouseCoopers (PwC)
RSM US
KPMG
CBIZ
BDO
CLA
Most companies seek workers from the United States, but some are open to other options. Check out their websites to see if they have open vacancies.
Expand your network
It's a less widely used tip since it's challenging and intimidating to start working on a personal network. However, it may give a significant boost to your career. Start by contacting people you've worked with in the past to connect with a target audience.
The accounting community is one of the most prosperous in the world. It often organizes and hosts seminars and conferences where specialists in the same field may discuss matters, exchange contacts, etc. Attend these events to find an employer who needs remote workers.