Reading Time 6 mins
We all want to generate higher incomes, but many of us miss several important points when it comes to making more money. Typical millionaires have more than just one source of income.
Successful people with higher incomes manage their business(s), invest in other companies, manage their portfolios, or trade on the market. Even though not everyone can launch a business and make it profitable, most of us can secure multiple streams of income. For example, a full-time job and a side gig are considered to have multiple streams of income.
This article focuses on describing different sources of income. Keep reading to learn what options you can benefit from. At the end of the article, you'll find a simple guide on how to create multiple streams of income to generate more money.
Common Income Types
When individuals think about an additional income source, they typically consider a second job. But it's not necessary to get a second full-time or part-time job, especially if all options offer low pay. There are other major income sources beyond official employment. The list goes as follows:
Passive income. If a person has passive income, they earn money from external sources without putting any effort into working. If you write and publish a successful novel, you can rely on royalties. You don't write new books yet to earn money. Similarly, photographers can take beautiful photos and sell the rights to use these pictures.
Owned income. It's similar to passive income but with a few differences. Individuals generating owned income have real estate or assets in their possession. It means an individual has property other people would like to use, such as a house, garage, office, etc. Clients pay to use these assets, and the owner generates income.
Invested income. It's a source of income that comes from an investor's portfolio. The list of sources includes capital gains, dividends, profits from investing in startups, etc. Simply put, investors make money from managing their portfolios.
Most of these income sources show that to generate more profit, people should invest money or their time. Eventually, the investment pays off and becomes one of several income streams.
Today, more Americans seek the help of financial advisors to manage their resources properly. In 2021, 38% of U.S citizens claimed they use professional help, but this number is increasing.
Most people want to experience financial stability, and financial advisors recommend working on extra income sources. Keep reading the article to learn about different profit sources to find a suitable option.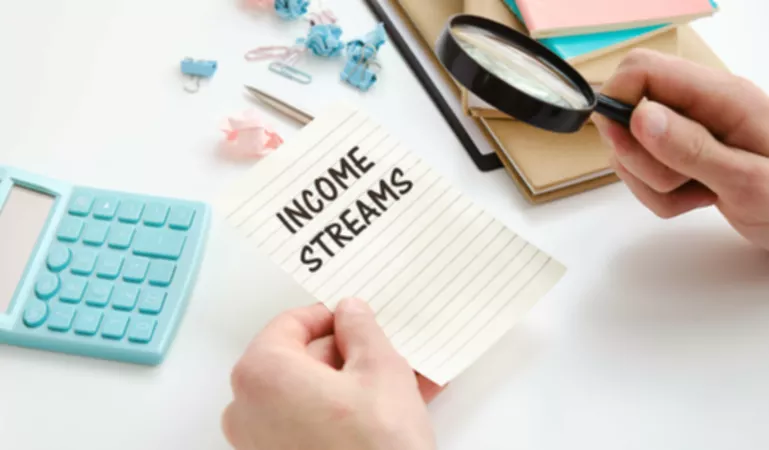 Full-Time Job
When both spouses in a household are employed full-time, it means they have multiple income streams. A full-time job is the primary profit source, and this option has multiple advantages for most people. The only disadvantage is if a person can't find a decent-paying job, in this case, it's better to focus on other sources that pay off.
The U.S Census Bureau reveals that the median yearly income in the United States is $67,521. So, if both spouses earn at least $50,000 each, they get $100,000 in annual income.
However, most people don't realize what other benefits they get from official employment. Here's what employees get:
medical insurance;
dental insurance;
retirement accounts;
life insurance (optional);
paid holidays and sick leaves;
paid vacation.
Self-employed individuals must provide these benefits for themselves. Moreover, a full-time job is a guarantee of a steady income while you can focus on finding other income streams.
No More Bookkeeping Stress
Keeping proper financial records is time-intensive and small mistakes can be costly. BooksTime makes sure your numbers are 100% accurate so you can focus on growing your business.
Part-Time Job
Self-employed individuals who don't have time to work full-time can consider part-time employment. Typically, part-time benefits are often the same or similar to those offered to full-time workers, even though they work fewer hours.
Employers reserve common benefits like health and dental insurance. Moreover, a lot of businesses offer retirement funding for full-time and part-time employees. An individual can work part-time as an office administrator and earn around $25,000 yearly. They have time to manage their small business or a side gig while also maintaining a stable income with standard employment benefits.
Pursuing a Side Hustle
A side hustle, or a side gig, is work an individual performs in addition to their primary job. Some people have time to focus on one side gig, while others manage to pursue several at a time. Some individuals prefer pursuing side gigs seasonally when there's customer demand, and others opt for more stable options.
A side hustle isn't just a source of income, and it also offers a way to explore a new career direction. Here are a few best options to choose from if you don't know where to start:
digital marketing;
bookkeeping or accounting;
teaching English online;
online tutoring;
translation;
proto editing;
content writing;
web design;
software development.
All these options enable people to work remotely from home. Some jobs offer higher income, such as web design, accounting, or software development. If you have additional talents or skills, put them to use and earn more money.
Selling Items Online
There are several platforms where people may sell items and earn income, for example, eBay, Amazon, Craigslist, etc. Most people have items they no longer use. They either throw them away, or these items clutter the space at home. Instead of throwing the opportunity of getting additional cash into the dumpster, consider selling these items online.
Your main task is to take good photos of items to sell and write a description. You can sell many unnecessary items from your garage or attic without any effort. Another great idea is to buy items at a lower price and resell them at a higher price. However, it takes time to figure out what items sell the best.
Renting Property
Residential rental property is an attractive investment. Compared to stocks, futures, and other investments, most individuals are familiar with the rental market as they were tenants.
Moreover, residential rental homeowners get such benefits as tax advantages and long-term appreciation. However, direct ownership of property comes with some risks, for instance, the responsibility to act as a landlord or solve tenant disputes.
Investments
Investing is the most common strategy for income diversification. Typically, people start saving for retirement by using Roth IRA or a 401(k). The idea is even more advantageous if your official employer is ready to match your contributions. However, individuals should also focus on diversifying their investments to avoid losses.
Experts recommend investing in a mix of mutual funds or ETFs. A mutual fund consists of a pool of money. You may invest in the fund by buying bonds, stocks, or other securities. The option is beneficial since users invest in professionally managed portfolios without overpaying.
Guide to Creating Multiple Income Streams
Now that you know more about different income types, it's time to learn how to create multiple income streams. Before we outline several income stream combinations, consider how you'll be managing your time. If you're already employed, it's critical to choose options that won't interfere with your daily routine.
The simplest option is to invest in real estate. However, it requires having money to buy an apartment, house, or office. You may keep a full-time job while leasing your property.
When you have enough money, consider investing in a startup or working on an investment portfolio. Having real estate, getting dividends from investments, and maintaining a full-time job should earn you a lot of money.
Moreover, all these options, except for the full-time job, guarantee passive income. So, you won't even get overworked. However, you'll have to hustle a lot to gain the initial capital to invest in real estate.
Another option is to keep a full-time or a part-time job while maintaining a side hustle. For instance, if you're a good writer, you may write an article when you have free time. Or you could invest in photo editing and edit clients' photos.
Investing in cryptocurrency also offers a great source of income. Some traders invest in a promising cryptocurrency when it's low in price, then the price skyrockets, and they sell coins for a much higher price. However, this option has many disadvantages, given the volatility of the cryptocurrency market and the need to have skills and experience.