There are many bookkeepers and accounting firms today that provide bookkeeping services. The competition is fierce and clients have options to choose from. How can a bookkeeper present oneself self in order to stand out from the competition? How to be a great professional so that clients want to stay with you and recommend you to friends and acquaintances?
Take a close look at the client
To offer the clients exactly the services they need and in the exact format that suits them, you need to put yourselves in the client's shoes. A modern entrepreneur is, in most cases, a very mobile, "gadget" person. It is important for them to save time, solve as many problems as possible remotely and fast, and have convenient access to important information via the internet.
What does this mean for you? This means that you will have a competitive advantage if you provide the client with all these conditions:
have invoices issued and sent to the intended person/entity in a simple and fast way
easily and quickly ask a bookkeeper a question and get an answer just as quickly
communicate not only by phone or in person, but mostly via instant messaging or another convenient way
have access to important financial indicators of the company: own debts and a list of business debtors, income and losses, goods in stock, etc.
To meet all these requirements, consider modern accounting technologies that allow you to work remotely over the internet, easily keep records, submit reports online, and give clients access to their bookkeeping records. Besides allowing you to provide professional services, these technologies will save you time and make your work easier.
You also need to consider yourself as a specialist. If large organizations and companies are beyond your strength right now, then they should be excluded from your list of potential clients, so you would not be wasting your time. Besides, these businesses are likely to have part or full-time bookkeepers on their staff.
If you know how to work in large organizations, then, in this case, you should also look for clients among large companies and organizations and offer them your online services. At the same time, it is recommended to have at least a couple of small entrepreneurs in your client base because if you lose a client, you will still have income coming in from other clients.
How to communicate the value of your services to potential clients
There are many ways to tell potential customers about yourself and the services you can provide them. Let's review some of the popular ones.
Website
Your own website is similar to your personal office. Potential employers view such bookkeepers as more trustworthy, professional, and reliable. You need to fill out the website to the maximum – a detailed description and cost of all services, work experience, information about education. You can download diplomas, certificates, and have a customer reviews page.
Your website does not have to be fancy and complicated. There are many simple website builders where it is enough to choose a suitable template and fill in information blocks. For clients to find your website, it is necessary to promote it yourself or use the services of specialists. In addition to services, you can add information blocks with answers to frequently asked questions.
Social media
People spend almost all their free time on the internet, giving preference to entertainment websites such as social networks. One of the popular social media platforms is Instagram. The main promotion tools here are graphic content and hashtags. However, it should be noted that we are not dealing with ordinary users of social networks, but with companies, firms, and organizations. If you have a website or YouTube channel, be sure to include them here.
It is important to maintain a personal account combined with professional content. You shouldn't litter your feed with just an advertisement about your services. Advertising in the feed should make up no more than 10% of the content. The rest is informative posts on bookkeeping and other relevant topics. In addition, consider other sites, such as Twitter, Facebook, and LinkedIn.
YouTube channel
How to attract clients besides direct advertising? Use information traffic for this. Potential clients often search the net for answers to bookkeeping questions. Provide them with the information they are interested in: How to create invoices? How to fill out tax forms? How to choose a bookkeeping program? After checking out the info, they may also want to get professional help from you.
The content must be properly optimized, so you need to come up with relevant titles and descriptions for your videos. In search of new ideas, it is useful to view content published by your competitors. If you see that a certain topic causes an active response from viewers (many views or, even better, comments), then try to cover this topic from your point of view. Sometimes users directly request topics that interest them. If you think that you can knowledgeably answer the request, feel free to add the material to the content plan.
Blog
The most effective and natural way to regularly fill your website with relevant content (and attract new customers) is to blog. Analyze your target audience and think about what might be of interest to people. To promote your blog, focus on useful information, and once again devote only a tenth of the content to marketing and promoting your service.
As mentioned above, if you are out of ideas, look at what people are searching for on other websites. Remember that only high-quality and engaging content will catch the interest of your potential clients, as well as of search engines. Thus, post only unique content on your blog, write on hot topics, make your text easy to read, illustrate content, and, of course, do not forget about grammar.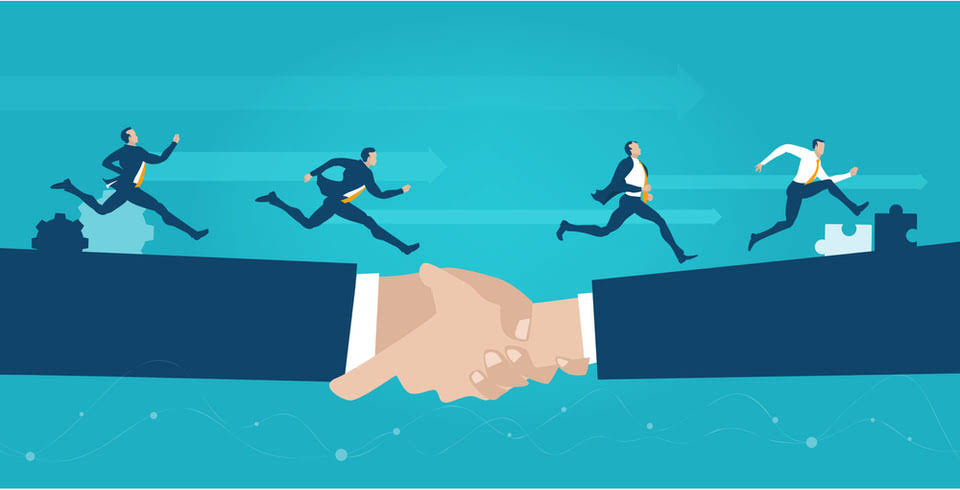 There are many other ways you can use for marketing your services online besides the ones mentioned in our article. For example, you can also take advantage of referral marketing, which is an effective way of spreading the word about a product or service through business's existing customers. Getting certified on the QuickBooks ProAdvisor website and contacting startups who are unlikely to have bookkeepers yet are other options.
It is difficult to predict which of the above methods will work faster and better, so do not limit yourself to just one. Do not get disappointed if you do not get enough clients at first. You may also have to work for a lower fee at first to build a reputation, receive positive reviews, and grow your client base. Good luck!