Reading Time 5 mins
Online shopping has become one of the most widespread types of digital activities in the world, and the development of this industry continues to grow. Statista predicts ecommerce will account for 20.4% of global sales by the end of 2022, up from just over 10% five years ago, indicating significant competition in this area. The most prominent players in the online commerce market are Amazon, Shopify, and Etsy.
Starting out in the industry requires out-of-the-box strategies to stand out from the competition and adapt to changing customer needs. In this blog, we will discuss the benefits ecommerce accountant can bring to an online platform.
What is ecommerce accounting?
Ecommerce accounting is a system for recording and managing the economic data and transactions that pertain to an online sales business. Such a type of activity includes traditional accounting techniques, as well as some features that are typical for online stores. Ecommerce professionals must keep track of inventory, international sales tax, and miscellaneous fees in addition to standard financial responsibilities.
Such ecommerce bookkeeping services allow you to perform comparative financial analysis to assess the change in profitability as the business develops or enters new markets, prepare financial reports (including income statements), and collect insights related to restocking and operating costs to increase profit.
What does an ecommerce accountant do?
Creating a booming online marketplace is not just about choosing the proper range of products and setting the lowest prices. Entrepreneurs must also deal with taxes, payroll, insurance, cash flows, loans, etc. Let's talk about the types of work an ecommerce accountant can handle:
Commodity cost calculation: there are many factors to consider when pricing, including competitor prices, platform fees, promotions, discounts, and more. A bookkeeper knows how to calculate the cost of commodities sold, the average cost per unit, and the net worth of a product. He may teach you how to use resources most cost-effectively.
Better inventory management: handling reserves creates a challenge for ecommerce businesses, especially if they trade across multiple platforms. The finance specialist sets up a stock monitoring system, so you know when it's best to order a new batch of products.
Cash flow management: an ecommerce accountant prepares a capital flow statement so you can see your income and expenses. Such data can be used to identify whether you should focus on increasing profits or cutting costs. The report also allows you to estimate the amount of taxes.
Assistance in the preparation of mandatory payments: a specialist helps you calculate the tax implications of purchases. He also determines possible deductions to reduce the tax base. Such accountants are also ready to help with the franchise.
An expert may help you calculate future sales based on historical information to help you identify product risks. They will analyze pricing policy, industry competition level, and customer service to identify potential problems and how to solve them.
No More Bookkeeping Stress
Keeping proper financial records is time-intensive and small mistakes can be costly. BooksTime makes sure your numbers are 100% accurate so you can focus on growing your business.
Why do you need an ecommerce accounting specialist?
After starting a business, an entrepreneur can manage business processes independently. As the ecommerce brand expands, financial processes become more complex. Partnering with an expert is the most cost-effective way to learn more about your business and outperform your competitors. What are the benefits of hiring a specialist?
Business understanding: interacting with a professional helps you choose the right type of business and set up your ecommerce platform.
Save time: specialists know the most effective accounting methods, which saves you time.
Capital savings: CPAs understand tax law's details and help your organization comply with the rules. They may help the company register as a taxpayer and tell you how to conduct business operations efficiently.
Adding the right tools: professional bookkeepers know all about the tools and software that optimize accounting and minimize the risk of mistakes.
Ecommerce firms often run into trouble when trying to expand. However, you may hire an accountant who will give you valuable advice on brand development and take you to the world level. A professional will help implement the best strategies to achieve your sales goals.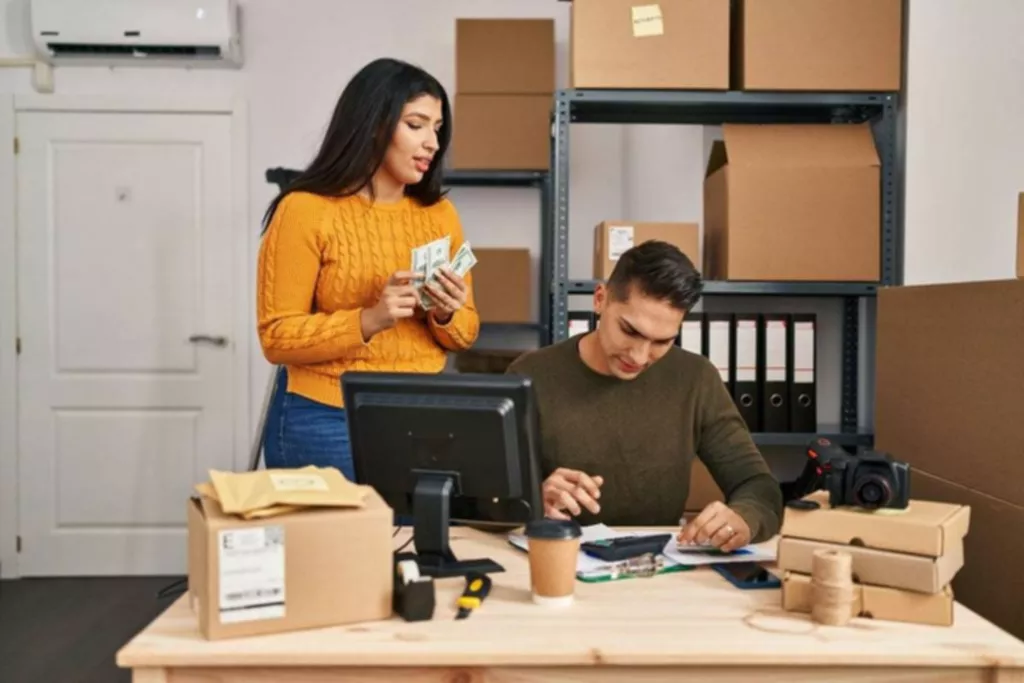 When should you start dealing with an ecommerce accounting professional?
Unprofessional ecommerce bookkeeping can keep your online store from growing and increasing your revenue. It is because many financial transactions are difficult for beginners, primarily if you use different distribution channels and several payment systems. We've put together a few signs that it's time to look for a qualified bookkeeper:
You want to know the exact amount of profit: for many business owners, the work with finances is only about paying taxes. However, as the company develops, your task is to determine the profit and profitability of the firm.
Control inventory and cost of shipped goods: another sign that it's time to hire an ecommerce accountant is that you plan to monitor the list and prices of sold commodities. It is the only way to accurately assess the efficiency and the need to order products to warehouses.
Adding applications: you may add additional software to your central platform, e.g., to control inventory, which shows incorrect information. You may want to automate manual procedures but don't know which program to use. An experienced CPA knows all popular ecommerce platforms and practical applications; he evaluates whether such integration is a good idea.
If your finances are messy, it's time to get them in order. An experienced specialist deals with your books and helps prepare monthly financial statements. The main task is to find an accountant who will help collect essential and accurate financial information and assess the actual economic situation in the company.
What to consider when hiring an ecommerce bookkeeper?
Once you realize you need an accountant, the next step is to find someone you feel comfortable working with and may trust. You also have the choice of partnering with a one-stop professional or looking for a reliable company. Let's talk about how to find an expert who will make your brand profitable.
The level of education: analyze the data of several applicants, whether they are licensed CPAs. A license means a person has been trained and tested and meets strict government standards. The professional must have a bachelor's degree in finance. It is a guarantee he understands how to maintain accounting records properly.
Experience: sometimes experience is more valuable than education. A specialist must previously work with virtual stores since online processes often differ from a traditional company's accounting department. A professional with relevant experience will indicate this on his website; however, you may need a personal conversation to ensure his level meets business needs.
Service knowledge: determine what you expect from a specialist. You may need a professional to oversee all electronic commission bookkeeping and pre-tax transaction records. Different areas of corporate finance require a specific set of skills and services that not all bookkeepers offer, so it is crucial to identify the challenges before hiring.
Calculation of the budget: both new and old e-commerce firms need to look for an employee that fits within their budget. The cost of services depends on the company's experience, the scope of work, and the industry focus. If you are worried about rising prices, you can enter into a fixed-price contract.
Many merchants today choose to outsource an ecommerce accounting instead of setting up a personal finance department. Although generalists are good, bookkeeping firms will bring more benefits as e-business requires a particular approach. Choosing Bookstime is a perfect solution. We employ true professionals who will help you manage the accounting of your online store. Take advantage of outsourcing services today to devote more time to your main activity. Develop your company strategically with our specialists!