Reading Time 4 mins
Have you ever heard about the term "bookkeeping clean-up" as a business owner? It simply refers to the process of organizing and verifying your financial records to make sure they are correct and comprehensive. Keeping up-to-date, accurate financial documents is necessary for businesses to make informed decisions, comply with regulations, and devise strategies.
Clean-up bookkeeping entails more than just keeping your financial records organized. It is a procedure that includes checking, comparing, and fixing mistakes in your books. It is an essential step in keeping precise financial records, which are necessary for managing your firm. You can find inconsistencies, missing transactions, and mistakes that would have gone missed using clean-up bookkeeping. Moreover, you may prepare for the future, avoid penalties, and make informed decisions.
In this article, we'll walk you through the steps of cleaning up bookkeeping, explain why it's crucial, and show you how to clean up accounting books to optimize your accounting procedure.
Why clean-up bookkeeping is important
Bookkeeping clean-up is not only a wise habit but one that every company must employ. With clear financial records, you can effectively assess your financial health. Here are some justifications for why clean-cut bookkeeping is crucial:
Adherence to regulations. Regulation compliance requires accurate financial records. You could be subject to penalties, fines, or even legal action if your documents are invalid. Clean financial records also assist you in getting ready for audits and tax filings.
Improved judgment. You can make well-informed decisions if you have accurate financial records. You can monitor your earnings and spending, see trends, and make a clean-up plan. Furthermore, you can make wise financial decisions that will help your firm if you keep the correct records.
Better cash flow. You can keep track of your accounts payable and receivable with clean financial records. Make sure you pay your bills on time by checking on past-due payments. It aids in keeping your cash flow healthy and keeps you out of trouble financially.
Furthermore, calculating your expected income for the previous year and estimating your taxable income after organizing your books is simpler. Before the year is through, organizing your records gives you time to go over financial options that can help you reduce your season's taxable revenue.
Signs that your business needs clean-up bookkeeping
After establishing the significance of bookkeeping catch up, let's examine several indicators that your company could benefit from it:
Records in disarray. If you have an accounting mess, it might be time to tidy up your bookkeeping. It is challenging to keep track of your money, spot problems, and make well-thought-out decisions when your records could be more organized.
Misleading records. You can judge based on false information if your financial records are faulty. Accurate records can sometimes cause issues and regulatory concerns.
You are paying late. Consistently skipping payments or paying bills past due may indicate that your bookkeeping needs to be cleaned up. In addition to harming your credit score, late payments affect your cash flow.
Tax issues are yet another crucial signal. If you've experienced tax difficulties, it might be time to clean up your accounting. To make tax files and avoid fines, accurate financial records are crucial.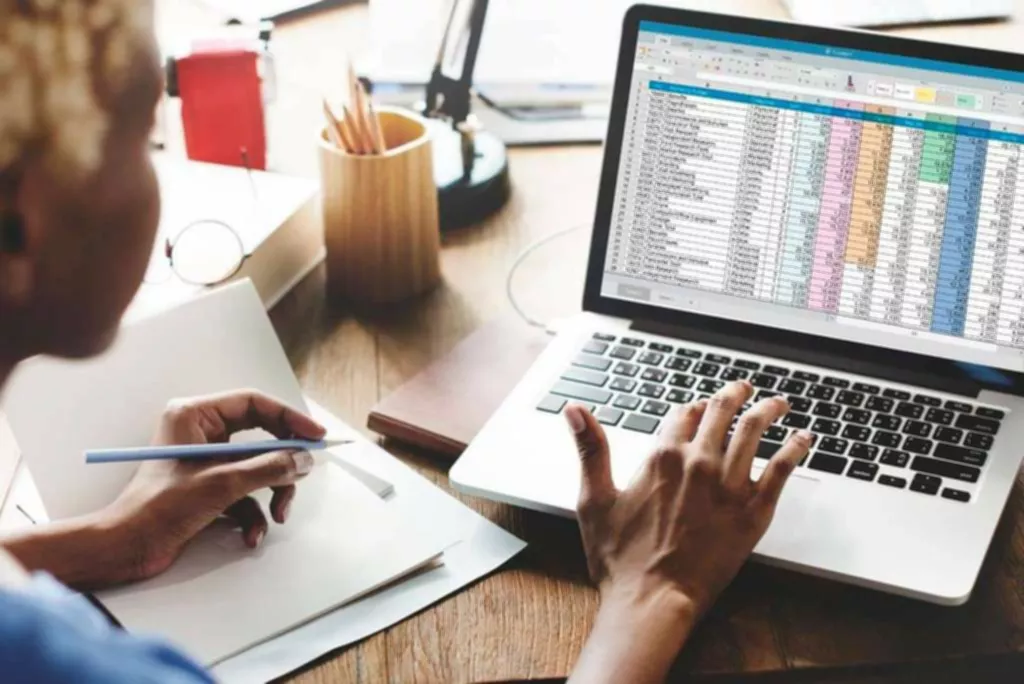 No More Bookkeeping Stress
Keeping proper financial records is time-intensive and small mistakes can be costly. BooksTime makes sure your numbers are 100% accurate so you can focus on growing your business.
The ultimate bookkeeping clean-up checklist
We have developed the ultimate clean-up bookkeeping checklist to assist you in streamlining your bookkeeping clean-up procedure. It includes the following steps:
It is vital to determine the scope of a bookkeeping clean-up engagement and assemble all financial papers, such as credit card and bank financial statements, invoices, receipts, and other related financial information.
Organize financial documents by category and date.
Check your financial records for accuracy and completeness by going over each transaction. Find any inconsistencies or omitted transactions.
To ensure that your records correspond to the actual amounts, reconcile your bank and credit card accounts. Find any mistakes and fix them.
Remove any outdated or inaccurate past transactions by deleting or archiving them.
Create financial reports, including income statements and balance sheets, to keep track of your funds and guide your decision-making.
You may maintain accurate financial records by periodically examining and reconciling your accounts.
These specific items on your checklist will make organizing your accounting much more accessible.
Tips for streamlining your bookkeeping process
There are techniques to speed up the process of cleaning up accounting, but it may be time-consuming and difficult. Here are a few pieces of bits of advice to streamline the process:
Use accounting software. You may automate many processes using unique software. It may also provide you access to real-time financial data and lower the likelihood of mistakes.
Put automatic bank feeds in place. Setting up automated bank feeds may save time and decrease the chance of mistakes. You may use it to have your accounting software automatically import transactions from your bank account.
Plan frequent reviews. Plan periodic checks of your financial records to find and fix any mistakes or inconsistencies. It will assist you in maintaining accurate financial records and preventing future bookkeeping problems and solutions.
Last but not least, consider hiring a professional if you need more time or knowledge to clean up bookkeeping. A bookkeeper may assist you in keeping accurate financial records and give you helpful information about your company.
Start your clean-up bookkeeping today
Every firm requires accurate bookkeeping. It aids in decision-making, regulatory compliance, and maintaining correct financial records. You may streamline your bookkeeping procedure and save time and money by using the best bookkeeping clean-up checklist, tools, and software. Moreover, you may opt for bookkeeping services. Consider hiring a professional to conduct clean-up bookkeeping if you don't have the time or skills to perform it yourself. To prevent such problems, keep your financial documents tidy and remember to examine them frequently. Take charge of your finances immediately by starting your clean bookkeeping.